Grao Vasco Dao Red is a lively wine that combines the characteristics and classic flavor of Dao red wines with the great versatility for everyday drinking, ideal as accompaniment to light dishes, cold meats, cheeses and certain fish.
The red vine varieties used in Grao Vasco Dao Red are classic in the Dao Region: Jaen, Alfrochoeiro, Tinta Pinheira, Touriga Nacional and Tinta Roriz.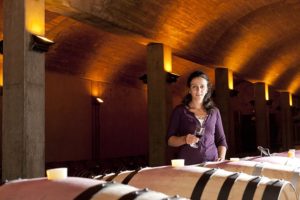 Beatriz Cabral de Almeida
Beatriz Braga Cabral Almeida was born in Porto on the 24th of July, 1981. Although she has lived in the city her entire life, this young oenologist has travelled the country, with vintages from the Douro to the Alentejo. Recently she established herself in the Dão region.
Beatriz's early academic career was in the field of Microbiology, with a degree from Universidade Católica completed in 2003. But her interest in the world of wines took precedence, and three years later Beatriz enrolled in a Masters in Viticulture and Oenology, a joint venture between Faculdade de Ciências da Universidade do Porto, Instituto Superior de Agronomia and Estação Vinícola Nacional.
For Beatriz, 2007 was a year of major life events. Married in May, she joined Sogrape Vinhos in June and soon discovered that her first daughter was on the way! The future looked bright!
Constantly proactive and eager to improve her knowledge, Beatriz was, up until 2011, in charge of technical oenology at Herdade do Peso, supporting the coordinating director of oenology at Sogrape Vinhos at the time, Miguel Pessanha. But 2012 announced new challenges and experiences, so it was proposed to Beatriz her moving to the Dão region, to be part of Manuel Vieira's winemaking team. After two years of experience together, Manuel Vieira got retired and Beatriz took the helm in the production of elegant wines at Quinta dos Carvalhais.
A mother of two young girls, Beatriz Cabral de Almeida makes the most of her free time to read, to cycle and to travel with her family. But with wine very much a part of the household and her husband's family's, with its origins in wine-rich Viseu, Beatriz has been heard to say: "My spare time, by which I mean my time away from wine, is quite scarce!"