Evaton Portfolio is a Hit with Wine Enthusiast!
Fantastic news for our brands from Wine Enthusiast! Evaton's portfolio has been recognized across the board in the November issue hitting newsstands October 13th.
93                                     2019 Framingham Sauvignon Blanc
93     Cellar Selection    2017 Herdade do Peso Alentejo
92     Editors' Choice     2019 Framingham Nobody's Hero Sauvignon Blanc
92                                     2019 Framingham Nobody's Hero Pinot Noir
92                                     2019 Quinta dos Carvalhais Encruzado
91     Editors' Choice     2018 Casa Ferreirinha Vinha Grande
90                                    2019 Azevedo Quinta de Azevedo Reserva
We are honored that so many of our beautiful wines have been recognized for their outstanding quality with phenomenal scores and additional Cellar Selection and Editor's Choice recognition.   Make sure to pick up your copy of the November 2020 Issue and raise a glass of our award-winning wines.
Somm Column: September Edition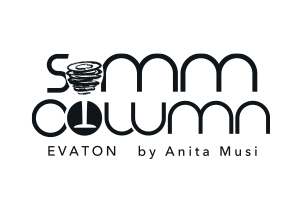 Red Wines to Take You from Summer to Fall
IG: anitamusisomm
The days are starting to get shorter and the chill of fall is in the air. While you start to transition from BBQ season to sweater season, I would like to share with you a few red wines that will ease you seamlessly from grilled summer vegetables to comforting risotto dinners. These three wines are extremely gastronomic, making dinners easy to enjoy!

Coming from Argentina, Malbec always tastes like home to me. In the Finca Flichman Reserva Malbec, aromas of plum, violets, and black and blue fruit mix with a subtle combination of toast, cocoa, and toasted coffee. Eight months in French oak barrels add to the complexity and body of this beautiful wine.
Malbec is a grape variety that is fruit forward with soft tannins and flavors, making this Reserva the perfect partner to barbecue a T-bone steak or to serve with a meat lasagna. Whichever the dish, you will be pleased you opened this wine!

The Spice Route was discovered by Portuguese explorers in 1498. This route brought flavors such as nutmeg, cinnamon, cloves, and pepper to the Western World. In our Silk & Spice red blend of Touriga Nacional, Alicante Bouschet and Baga, you'll find notes of many of those same spices. Displaying an intense ruby color, ripe, bramble fruit with figs and a combination of spices and vanilla, this wine has a well-defined fruit palate that is integrated with delicate alcohol levels and velvety tannins. This is an easy drinking red blend with a pleasant, lingering finish – even great on its own.

In the 1960's, Casa Ferreirinha made history with Barca Velha, the first still, unfortified Portuguese fine wine. For a more approachable option, Vinha Grande was born as an expression of the Classic Douro red wine, representing the beauty of Douro Valley wines. Blended with Touriga Franca, Touriga Nacional, Tinta Roriz and Tinta Barroca, this wine spends about 12 months in French oak barrels to add finesse and a floral bouquet to its flavor profile. Elegant, harmonious, and complex is how I would define a wine that, once you taste it, will leave you wanting another glass.
I recommend that these wines be served around 62F and that they be opened about one hour before consuming. You may also decant the wine for about 45 minutes to allow the wines aromatic profile to blossom once it is in your glass.
I hope you enjoy these three recommendations and please feel free to contact me if you have any comments, suggestions or questions at [email protected].
Somm Column: August Edition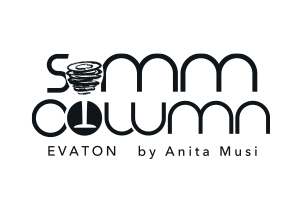 Red wines that can be enjoyed all year long
…and a dessert wine for good measure!
IG: anitamusisomm
Most of us drink red wines all year long and while some people might have a preference of varietals or style, the truth is that having a light red wine handy is definitely a plus.
Today, I am sharing wines that are impressive for both their price point and their quality. For me, these are discoveries worth sharing!
Casa Ferreirinha has been a pioneer in making dry, unfortified wines from the Douro Valley since 1952.  They are the leaders in the category and the iconic Barca Velha is the star. This wine highlights the before and after in the standard of quality wines in Portugal.
From this iconic winery, there are two lighter reds that are perfect for year-round consumption, that pair well with multiple food options.
It should be noted that Portuguese wines are usually a blend of multiple native grape varieties. While this is important, the balance between the varieties in the final blend is even more significant. The following two red wines are blends of Tinta Roriz, Tinta Barroca, Touriga Franca and Touriga Nacional.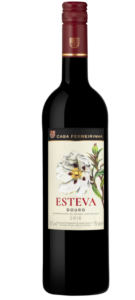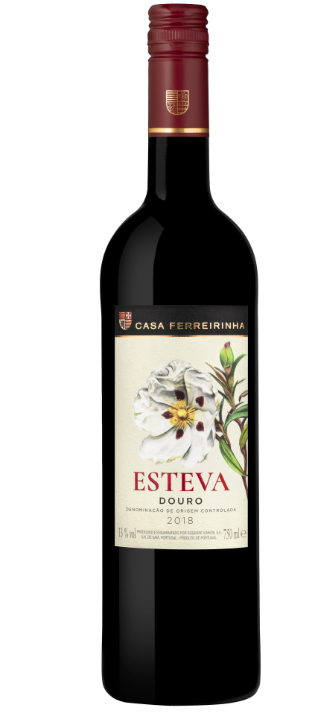 Esteva is named for the wildflower that grows in the Douro and lends the region one of its signature aromas.
This fruit forward, young wine shows notes of roses, strawberry, red cherry, and candied cranberry with some floral notes like violets and a hint of cedar box. On the palate, it has a refreshing acidity that invites you to take another sip while soft tannins make the finish lasting and juicy.
Esteva is great with salads, fish, appetizers and is perfect for light dishes. Serve this wine slightly chilled to enjoy at its fullest. This is an easy drinking, absolutely refreshing light red for any occasion.


Papa Figos is one of the rarest birds in the Douro. It is said that when the Papa Figos (an oriole) arrives in the vineyard, it indicates that the grapes have reached their ideal ripeness.
Being the older sibling of Esteva, Papa Figos has more depth, character, and a stronger aromatic profile and palate. On the nose, you can discover aromas of bramble, dark fruit, black cherry, and blackberry with some roasted coffee and tobacco notes. The palate offers notes of cocoa with round but firm tannins and a watery acidity that makes a solid and easy drinking wine. The body is light and structured and is very harmonious with its components.
Papa Figos Red pairs wonderfully with many dishes from meats to pasta, pizza, or a seasoned fish. It really pairs well with anything!

And of course, there is no better way to finish dinner than with something sweet!
One of my favorites is the very perfumed Sandeman 10 Year Old Aged Tawny. It has some notes of honeyed walnuts, orange peel, figs and butterscotch that end a meal perfectly.
It has a great acidity that will surprise you and will pair wonderfully with creamy blue cheese or even a more esoteric baklava with figs. A more common paring you will find is with crème brulee or a white chocolate mousse. Both will be a perfect match to your perfect dinner.
Keep the red wine stem wear out for these beautiful wines.  Port and other dessert wines no longer belong in small glasses and should be served chilled.
Sometimes it is the simple things where we enjoy the sweetest moments. I hope you are able to discover and enjoy these three wines as much as I do, all summer long and way after the sunny days of summer end!
Please feel free to contact me if you have any comments, suggestions or questions at [email protected]
Somm Column: July Edition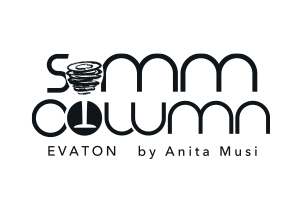 Summer Sips, 4th of July Style
IG: anitamusisomm
Welcome to our July Somm Column. Today I am bringing you a handy list of crowd-pleasing wines and cocktails for everyone to enjoy this summer.
The July 4th holiday is a wonderful time to get together with friends, family, and neighbors (socially distancing of course). It is a special time to celebrate America's Independence with fireworks, BBQ's and great drinks!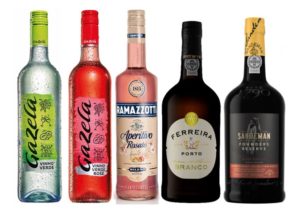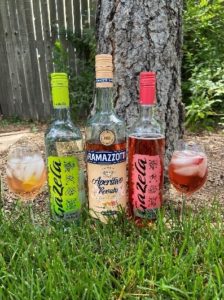 A great start to your festivities is the light, refreshing, low-calorie Gazela.  With only 87 calories and an ABV of 9%, our Vinho Verde is a great option that is easy drinking with a slight fizz. The wine has a light acidity and comes in white and Rosé.  You can enjoy this wine without thinking about it too much.
Gazela Vinho Verde has tropical fruity notes and the Rosé has intense red berry notes that accentuate the taste of summer. Both wines are amazing choices and are definite crowd pleasers.  These are wines that you can use in a cocktail, serve on the rocks or just enjoyed chilled. Just remember to have Gazela in the fridge so it's always ready to go when company knocks. Another thing to have ready? This Gazela cocktail – fill a wine glass with Gazela Vinho Verde and add a splash of Ramazzotti Aperitivo Rosato. Voila! Summer in a glass!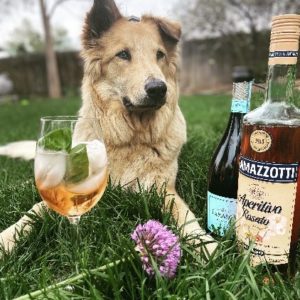 Ramazzotti Aperitivo Rosato is our orange blossom and hibiscus aperitif that can be used as a cocktail base. It has a lower ABV than other Ramazzotti products, making it a different, light, and original option for cocktails.
For the upcoming 4th of July, I plan to enjoy some Rosato Míos, which are simple and delicious!
Fill a wine glass with ice cubes, pour 1.5 oz of Aperitivo Rosato and 3.5 oz of Prosecco (or any Sparkling Wine that you may have handy), garnish with basil and voila! Time to enjoy a beautiful day and here is a picture of my dog posing with the Rosato Mio!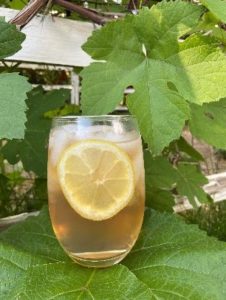 While spirit aperitifs have continued to grow in popularity over the past few years, don't forget what a great ingredient we have in our portfolio of Ports. While also viewed historically as an aperitif, Ports have had their share of being part of some great cocktails over the years from sangrias to white Port and tonics.  Here are a few more we hope will become classics one day too.
When choosing an elegant white Port for cocktails, Ferreira is top of mind.  With their high-quality legacy of making iconic Port wines for over 250 years and as one of the oldest Port brands in Portugal, this two-ingredient cocktail is perfect to showcase this great wine.  For the Ferreira Port Tonic, you only need two ingredients – simple and easy.  One is Ferreira White Port and the other is tonic! Time to grab a glass and enjoy on your next sunny day.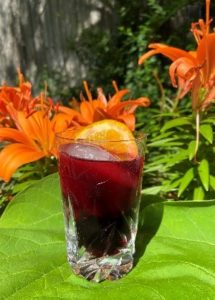 Modern and classic, Sandeman Founder's Reserve Ruby Port comes in handy for a killer cocktail that is both sweet and icy – the perfect combination for summer.  Enter: Sandeman Founder´s on the Rocks. Simply mix Founder's Reserve with an orange slice over ice and you're done!  You can aldo add a garnish of mint if you have it handy. It's an effortless cocktail that packs a serious punch – this reserve ruby Port is barrel aged for four years and has aromas of dark berries and cherries with a touch of sweetness. Enjoy this special Port on the rocks as the perfect accompaniment to the beautiful fireworks on the 4th.
At the end of the day, it is important to have easy and enjoyable cocktails that everyone will love and will put a smile on their faces while sipping. These three recipes will make you the cocktail master with only a few ingredients! I hope you enjoy, please drink responsibly and have a Happy 4th and an incredible summer!
Please feel free to contact me if you have any comments, suggestions or questions at [email protected]
Gazela & Rosato
In a wine glass, add some ice, pour 1.5 oz of Aperitivo Rosato and 3.5 oz of Gazela Vinho Verde.
If you use Gazela Vinho Verde, garnish with lemon peel.
If you use Gazela Vinho Verde Rosé, garnish with a red berry.
.
Rosato Mio
Fill a wine glass with ice, pour 1.5 oz of Aperitivo Rosato and 3.5 oz of Prosecco. Garnish with basil.
White Port & Tonic
Place ice in a highball glass, add 1.5 oz of Ferreira White Port and 3.5 oz Tonic Water. Garnish with a slice of lemon.
Sandeman on the Rocks
Fill a rocks glass with ice, pour 2 oz of Sandeman Founder's Reserve Ruby Port and add an orange slice.
Somm Column: June Edition
Three Evaton Summer Wines To Fall In Love With
By Anita Musi
With the arrival of spring and sunny warm days, we are reminded that Summer is closer than we think.
And, with great wines to try, why not taste, discover, and travel to different places around the world with just a glass of wine?  From Vinho Verde in Portugal, to the Douro Valley and Rioja in Spain, we will discover three amazing wines.
In my June Somm Column, I have selected wines that impressed me for many reasons. These wines could be considered 'out of the routine' or esoteric types of wines.  While each has a great quality, all three wines have a rich history, and I just love wines with meaning. These wines all tell a story. They have survived over the years, even centuries in some cases. Vines that struggled during rough seasons and yet, able to create amazing and flavorful grapes to be converted into adventurous wines that, once you try them, you will fall in love with.

The Azevedo property dates back to the eleventh century. It was a royal donation by the King to the Lord of Azevedo to exercise justice in their lands, collect taxes, and organize their own army. The eagle you see on the capsule, is a symbol of power, strength, authority, and victory. The coat of arms is from the Azevedo family who had owned the house for ten centuries and for more than 30 generations. After acquiring the property in 1982, Sogrape continued to enhance the history by respecting the land and the vineyards.
While a traditional Vinho Verde Style is based on being off dry to medium sweet with carbonic gas and low alcohol; Quinta de Azevedo has a different approach. The choice of grape varieties, trellising systems and canopy management, combined with a modernization of the winery equipment, the search for expressing the local terroir with a high-quality wine has been the priority for the winemaker Antonio Braga.
The wine is a blend of 70% Loureiro which brings aromatic freshness and crispy acidity and citrus like lime, lime blossom, mineral notes, nectarine, ripe mango & grassy aromas, while the addition of 30% Alvarinho adds creaminess and ripeness, completing the blend with body and mouthfeel waxiness with tropical notes. On the palate the wine is dry, light bodied with watery acidity that keeps lingering in your mouth.

Since 1952, Casa Ferreirinha has been the leader in creating unfortified quality wines from the Douro Valley. These wines are versatile, food oriented and very approachable. The whole range has been made for over 35 years by the winemaker Luis Sottomayor.  These wines still surprise me every time I taste them. But this Papa Figos White that landed in the United States not that long ago, is an adventurous wine and once you give it a chance, you will be hooked!
To start let me do a quick mention of the beautiful label. Papa Figos are a rare migratory bird that can be found in the Douro Valley in Portugal. Nature is wise enough that when the bird arrives in the vineyards, it is an indication that the grapes have reached their ideal level of ripeness.
This Papa Figos White is a blend of four white grapes that come from elevated zones of the Douro Superior combining high aromatics and a great balance between sugar and acidity adding body to the blend.
Intense and fragrant with white fruit and herbal notes with a citrus finish, this blend is harmonious, elegant, and vibrant, all at the same time. On the palate it is fresh with well-balanced acidity and a long finish.

Crossing the frontier from Portugal to Spain and travelling to the east, we find in Rioja DOC, Montecillo, which is the 3rd oldest winery in the area, founded in 1870.  Today, after 6 generations in the family, Montecillo combines tradition and respect for the land which comes through in their wines.
This modern and unusual rose is a blend of Tempranillo, Garnacha and Viura. Winemaker Mercedes García ferments the grapes separately at a low temperature to conserve crispiness and aromas, concrete eggs and stainless-steel tanks.
This blush wine will definitely make you jump out of your chair! On the nose it is intense and extremely floral like acacia, and geranium combined with aromas of pomegranate, cranberry and strawberries. While on the palate it is dry with creamy notes, some mineral and nectarine notes can also be found.  The finish is fresh and invites you to have another glass.
Pairing these wines
Foods with a high acidic component will increase the sensitivity of your palate and the sweetness and fruitiness in a wine. Because of this, the recommendation is to pair these types of foods with wines that have a fair amount of edgy acid, light body, fruitiness, and freshness to help clean the palate, balancing each other out.
Here are some ideas of foods that will match perfectly with these three wines: tomatoes, fish & seafood, fish tacos, fried appetizers, Spanish tapas, shishito peppers, salads, Mexican dishes, Indian cuisine, spicy and Asian food and why not, a good charcuterie plate with light cheeses.
If you wonder what the best temperature is to serve these wines, I recommend between 48 to 51° Fahrenheit.  At this temperature, the wine will keep its aromatics while staying fresh. If you are not sure about how to measure the temp, just place the wine in the fridge for about an hour prior to serving and you are ready to go! On the other hand, I recommend only pouring about 2 oz max to avoid it heating up while we you are chatting with friends.
I will share a little secret that I have for the summer: I chill my wine glass before pouring wine. How? I just add a few ice cubes and swirl the wine glass until is cold then I throw away the ice and pour in the wine. This helps to keep the wine at a lower temperature.
With these few tips we are ready to enjoy the summer so sit back, relax, and travel the world through a glass of wine. I hope you enjoyed this article and you enjoy these amazing wines I suggested! Cheers!
Please feel free to contact me if you have any comments, suggestions or questions at [email protected]
Somm Column: May Edition
The Evolution of Mateus Rosé
By Anita Musi
In a dynamic world of changes, evolution is almost certainly necessary.
When Mateus was launched in 1942 filling the market with the first Rosé wine from Portugal, the world wasn't what it is now. Sold in a curved bottle that was inspired by the flasks used by soldiers in the First World War, Mateus has been known for its quality and consistency making it the #1 Portuguese wine in the world.  Imagine that over 20 million bottles are sold in 120 countries around the world: 38 bottles every minute! Now, after 75 years, Mateus is reinventing the Rosé category yet again with Mateus Dry Rosé.
Having a wine quality and consistency of production like no other, Mateus has been able to find the right spot and the right time to evolve updating the wine style and the packaging a more modern look, following the current trends for rosés that has been in place for the last few years, especially for the summer.
This is a serious contender in the rosé aisle, the Portuguese section or great wines under $20 section. For the customers that already know the brand, now is more attractive than ever. The fruit forward, fizzy and slightly sweet profile blend of 5 grapes is already in the past.
Forbes.com selected Mateus Dry Rosé as one of the best wines for a wine emergency (aka the times that we are living right now is considered one of them). It has a new style that is more consistent with what is well known as a 'Provence wine style'.
A blend of Baga & Shiraz it has a pink pale color and it presents red fruit aromas, like cherries and strawberries with a hint of floral notes. It is a wine that when you drink it, not only is dry, but it doesn't show the carbonation (fizzy bubbles) like before. It is fresh and expresses vividly at the palate with engaging acidity and fruity finish.
Mateus Dry Rosé is perfectly enjoyable by itself, but also, with sushi, seafood, seafood risotto, shrimp cocktail, buttered scallops, fish, salad, or a charcuterie plate. Is a wine for many occasions.
As far as packaging goes, not only it is available in the 750ml, but also, in single serve 187ml. What started as a sample request, ended up being a consumer request. The individual bottle gives you versatility during these strange times. Are you home by yourself and want a wine but you really do not want to be drinking the same for 3 days straight? Maybe you just want one glass of wine with a meal? This is the perfect option!
Or maybe when everything opens again, you want to gather with friends and want to get a few individual servings, so no one needs a wine glass? We got you! This 187 ml is a great solution for these and so many more examples of consumption. The pool, the beach, a housewarming, a bachelorette party, a baby shower, a concert, a BBQ, or on any day that you crave some beautiful easy drinking rosé.
In a world that is in constant change, Sogrape found its way to reinvent the wheel recreating the #1 Portuguese wine in the world in the best possible way. An easy drinking rosé, dry, appealing, delicious, for any moment, with endless of food parings options and in 2 sizes that are approachable while maintaining a high-quality wine.
Please contact me if you have any comments, suggestions or questions at [email protected]
Cheers & enjoy some Mateus Dry Rosé!
Somm Column: Introducing Casa Ferreirinha & Ferreira Port!
Introducing Casa Ferreirinha & Ferreira Port!
By Anita Musi
Nowadays we hear plenty of stories of empowerment and courage and this one got my attention upon joining the Evaton family. Her tenacity, innovative ideas and her great sense of community earned her the nickname of 'Ferreirinha', the little Ferreira Lady. Dona Antonia Ferreira, from Casa Ferreirinha, was admired and loved by everyone and this was the mid 1800's in the lands of Douro Valley in Portugal.
In a world dominated by men, Dona Antonia was a businesswoman characterized by her charisma, her long-term vision and her entrepreneurial personality that drove her to help the community of vine growers and the people of the Douro.  She kept the family company up and running against many odds, created new expanses of terraced vineyards, improved the company's stocks of old port wines, had the foresight to store older stocks and also helped to improve the hard lives of local farming families through founding schools, nurseries and hospitals. Dona Antonia is still known today in Portugal as a vital figure in Portuguese history.
Since 1751 when her family began making port wines, they continued to be a step ahead of the game when in 1952, Casa Ferreirinha started producing  a line of unfortified wines. Theses were top quality and elegant wines using grapes from Douro Superior. The wines were balanced with structural components such as tannins, acid, alcohol and ageing potential.
250 years later, Casa Ferreirinha continues to produce an amazing line up of premium wines, now made by Luis Sottomayor who has been creating the wines for Casa Ferreirinha for the last 35 years.  These wines are made to be consumed with any meal and enjoyed on daily basis.
Each wine has its own unique style and flavor profile creating a versatile line up for absolutely anyone. Planalto, the first white wine, goes from crisp, refreshing and aromatic to the Papa Figos which is more structured and heavier bodied with skin maceration delivering complex aromas.
As for the reds, Esteva is fruit forward with no signs of oak ageing and mellow tannins, while Papa Figos Red is layered and balanced, a great value for the price point delivering subtle vanilla aromas from 6 months of ageing.
Vinha Grande, Callabriga & Quinta da Leda are the starting point of the wines that have been aged longer in oak – between 12 to 18 months – with deeper color and a wider spectrum of primary, secondary and tertiary aromas. These wines are harmonious, elegant and serious contenders with reds of the world.
Reserva Especial & Barca Velha are truly a level above. Reserva Especial is a great addition to the iconic line.  As its name states, it is a special release that follows the high standards of our winemaking team. Barca Velha has been the top-notch iconic wine and is only released in the best years. This wine has ONLY been created a total of 19 harvests, with 2008 being the most recent vintage.
It is not shocking that Casa Ferreirinha wines have won multiple accolades, all a minimum 90 points in Wine Spectator and Wine Enthusiast. They are great wines for the value and made for everyday consumption.
Dona Antonia is a true example of hard work and leadership that inspires us to continue the legacy that this historic woman laid down many years ago.  In the changing times, it is an honor to represent her wines as the new Fine Wine Specialist at Evaton.
Please contact me at [email protected] if you have any comments, suggestions or questions.
Enjoy our Casa Ferreirinha wines!

Casa Ferreirinha and Ferreira Port Appoint Evaton Inc As US Importer
CASA FERREIRINHA & FERREIRA PORT APPOINT NEW IMPORTER FOR US MARKET
DISTRIBUTION RIGHTS TRANSFER FROM BROADBENT SELECTIONS TO EVATON INC.
Effective April 1st 2020, Evaton will be responsible for importing Casa Ferreirinha & Ferreira Port, two of Portugal's most renowned brands, which will transition from Broadbent Selections.
Seeking to raise its profile in the U.S. market, Portuguese wine group Sogrape has agreed with Broadbent Selections to move the distribution of Porto Ferreira & Casa Ferreirinha to Evaton Inc., Sogrape's distribution subsidiary in the US, headed by Stephen Brauer, Chief Executive Officer.
"Following the recent successful transition of Sandeman to Evaton, we decided that it was the right time to consolidate our Portuguese portfolio with our U.S. distribution organization", said João Gomes de Silva, Chief Sales and Marketing Officer for Sogrape Vinhos. "And we are grateful to Bartholomew Broadbent and his team for their stewardship of Casa Ferreirinha and Ferreira Port over the years".
"We are thrilled to strengthen the link to Sogrape with such recognized brands", added Stephen Brauer. "Casa Ferreirinha & Ferreira Port bring amazing Douro credentials and expertise to our existing portfolio, which also includes other iconic Portuguese brands such as Mateus and Sandeman and the new star on the horizon, Silk & Spice", confirmed Brauer.
Porto Ferreira, a brand with more than 250 years heritage and closely linked to the figure of Dona Antónia, is the top selling Port Wine house in Portugal. Casa Ferreirinha, sharing the same origins, is the Douro category leader, and its icon, Barca Velha, was first launched in 1952, at a time when the region was exclusively dedicated to Port wines.
About Evaton:
Founded in 1991, Evaton USA is a national importer of fine wines and spirits, with an award-winning wine & spirits portfolio. Evaton is the US distribution arm of Sogrape, Portugal's leading wine company, known for such iconic brands as Mateus, Sandeman Ports & Sherries and Casa Ferreirinha. The company is proud to represent the Sogrape portfolio from Portugal, Argentina, Chile & New Zealand, as well as partnerships with premium wine and spirits brands from Italy, France & Spain. Headquartered in Stamford, CT, the company distributes its fine wine and spirits portfolio in all fifty states.
For further information please contact:
Portugal: Inês Vaz +351 93 785 04 42 |[email protected]
USA: Ana Calle 917-757-9925 / [email protected]
Sogrape Announces Launch of Mateus Dry Rosé
SOGRAPE ANNOUNCES LAUNCH OF MATEUS DRY ROSÉ
Portugal's famed producer introduces new vintage wine for the US market that harks on a prominent history to redefine the shape of Rosé
New York, NY (DATE 2/28/20) | Beginning spring 2020, Sogrape, Portugal's most prominent family-owned wine producer, will launch Mateus Dry Rosé from the 2019 vintage. From its provenance to its unique bottle design, this wine pays homage to an innovative brand and its history, which led to Mateus' 20th century cult-like following, while at the same time redefining the brand, with a new style of wine, new branding and packaging and a new ambition for the US market. The launch of the 2019 Mateus Dry marks the beginning of Mateus' reinvigorated U.S. journey to deliver a wine that embodies the New Shape of Rosé.
From the visionary mind of Fernando van Zeller Guedes, Mateus – a Rosé style wine – was born in 1942.  The new wine category was developed alongside a creative brand identity that included a design forward bottle – inspired by flasks worn by soldiers during World War I – and a unique label that provided a link between product and provenance.  These elements became distinctive features of Mateus, establishing it as a powerful global brand distributed in over 120 countries around the world.
Harking on this pioneering spirit and over 75 years of history, the new Mateus Dry Rosé is made from Baga and Shiraz grapes to deliver a dry Rosé with a pale pink color, a  bouquet of alluring floral notes and lively red berry fruit flavors on the palate. The new bottle shape, which is taller, gently curved and dons a contemporary silver label featuring the vintage – modernizes the original design. This new evolution of Mateus with its contemporary, lifestyle positioning is designed to attract and engage a new generation of wine consumers.
"For all that it represents, Mateus is the crown jewel for Sogrape. It is the past, the present and the future that has led us to where we are, and it promises to take us even further. The launch of the 2019 Mateus Dry Rosé is yet another act of courage in the history of our family's most iconic brand, one that has always been innovative and ahead of its time," comments Fernando da Cunha Guedes, President of Sogrape.
"We are delighted to be introducing the new Mateus Dry Rosé to the U.S. says Stephen Brauer, CEO of Evaton, Inc. "Mateus is the most celebrated name in the Portuguese wine category and with the growing popularity of Portugal, this is the perfect time to relaunch and rejuvenate this iconic wine."
Starting in the spring of 2020, Mateus Dry Rosé 2019 vintage will be available at wine retailers across the U.S. (SRP: $12.99/750ml) as well as in restaurants and bars.
To learn more about Mateus in the U.S., follow us on Facebook (Facebook.com/mateusroseusa), Instagram (Instagram.com/mateusroseusa) and online at www.mateusrose.us.
####
Mateus was born in 1942 from the idea of a visionary man, who created a pink colored wine launched in a bottle inspired by the flasks used by soldiers in the First World War.
From Portugal to the world, Mateus soon became a global reference, with consistency in quality as a premise. More than 75 years have gone by but Mateus believes in reinventing the rose category, by offering refreshing and fruity wines and promoting a diversity of easy-drinking experiences – all day Rosé.
With presence in over 120 markets and 20,000,000 bottles sold annually, the brand dreams to intrigue new consumers worldwide and make Mateus a part of popular culture again!
Montecillo Rioja Crianza Lands the Cover!
We are excited to share that our 2016 Montecillo Rioja Crianza has been selected to grace the cover of the 2020 March issue of Decanter magazine!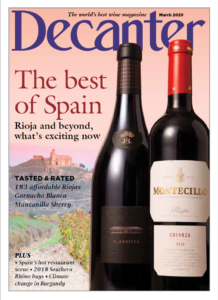 The wine received 91 points and is highly recommended by the editors. The wine perfectly reflects the best of Rioja's quality and approachability with it's well-balanced profile and wonderful freshness. This achievement speaks to the quality of the wine itself and also the hard work Montecillo has been doing to elevate its premium wine crafting credentials. Please note the packaging reflected in the magazine is offered outside of the US.

We would like to give special congratulations to winemaker Mercedes Garcia and all Bodegas Montecillo's team for this truly astonishing achievement and hope they continue having a successful anniversary year!
The 2016 vintage is currently available in our warehouse.
Established in 1874, Bodegas Montecillo is one of the pioneering wineries of the D.O. Rioja. Today, century old wine aging techniques co-exist with revolutionary wine-making technologies, delivering internationally acclaimed wines. The addition of these new wines continue to embody this standard of excellence. Learn more about these wines and Bodegas Montecillo at their website!