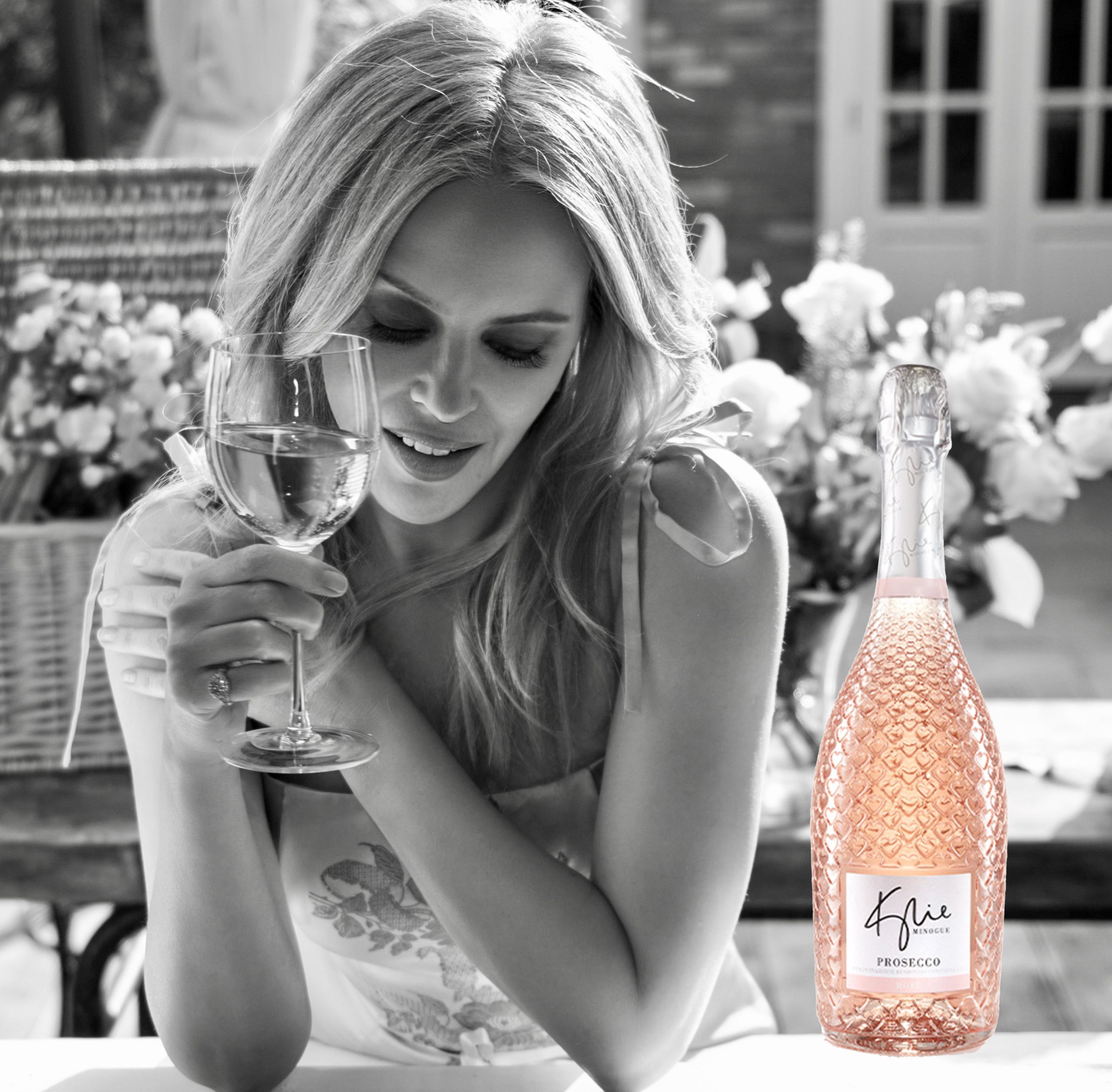 Kylie Minogue Wines, UK's #1 Rosé Brand, Looks Forward to Its American Launch
"I am absolutely thrilled to be launching Kylie Minogue Rosés in America, in partnership with Evaton Inc. It's been a dream of mine to introduce Kylie Minogue Wines to the United States so this is a special moment for me. I can't wait for Americans to be able to enjoy, and fall in love with these beautiful rosé wines."
                  – Kylie Minogue
February 9th, 2022: The Kylie Minogue Wines Rosé US portfolio will launch with The Kylie Minogue Prosecco Rosé, a bright, fresh, elegantly textured sparkling Prosecco Rosé, available in select markets including California, Florida, New York, Massachusetts, New Jersey, Texas and Ohio.
"Prosecco Rosé was the largest growth category for wine in 2021, with Kylie Minogue Wines leading the market as the number one Processco Rosé brand in the UK. The immense popularity in Great Britain and the demand for global expansion is testimony to the incredible energy, exquisite taste and refined palate that Kylie has contributed since we began Kylie Minogue Wines together. We couldn't be more excited to continue our journey and to introduce Kylie Minogue Wines to the United States, distributed exclusively by Evaton Inc." – Paul Schaafsma, Founder and Managing Director of Benchmark Drinks.
"It's our privilege to bring Kylie Minogue Wines to the United States. The stunning success in the UK is a result of Kylie's passion to produce great wines in partnership with Benchmark Drinks' well-established expertise. From a business perspective, we are primed for success as the US has a dynamic rosé market and the Prosecco DOC Rosé has been embraced by consumers desire for the 'Pink Prosecco'" – Stephen Brauer, CEO of Evaton, Inc.
For further information, please contact:
Ana Calle
E: [email protected]
About Kylie Minogue
Since The Loco-motion topped the charts in 1987, and became the highest selling single of the decade in Australia, Kylie has sold over 80 million records, achieved 34 top tens and 7 number ones. In 2008, Kylie was awarded an OBE for services to music as well as receiving the highest cultural honour in France, Chevalier Dans L'Ordre des Arts et des Lettres, presented by the French Government for her contribution to the enrichment of French culture. In 2019, Kylie set the current record for the most-watched performance ever at Glastonbury, with over 3.9m people tuning in. With her latest studio album "DISCO" reaching Number 1 in the UK's Official Charts, Kylie has become the first female artist to top the UK albums chart in five consecutive decades.
In 2020, Kylie collaborated with London-based distributor Benchmark Drinks to launch Kylie Minogue Wines – a beautiful portfolio of premium wines. Kylie Minogue Wines have sold over 675k cases of wine since launch, and are available to purchase in 10 countries around the globe in esteemed stores such as Harvey Nichols, Tesco, Sainsbury's and Spago.
To join the Kylie Minogue Wines community, follow Kylie Minogue Wines on Instagram, Facebook and Twitter.
About Benchmark Drinks
Benchmark Drinks is a London-based distributor and brand developer established in 2018. Led by MD Paul Schaafsma, the combined trade experience of the team totals over 100 years all in senior management roles. Benchmark Drinks manage a premium portfolio of award-winning global brands from Australia, New Zealand, Argentina and France.
About Evaton
Founded in 2000, Evaton USA is a national importer of fine wines and spirits, with an award-winning portfolio specializing in the Iberian Peninsula. Evaton is the US distribution arm of Sogrape, Portugal's leading wine company, known for such iconic brands as Mateus, Sandeman Ports & Sherries and Casa Ferreirinha, as well as additional partnerships with premium wine and spirits brands and families from Italy, France & Spain. Headquartered in Stamford, CT, the company distributes its fine wine and spirits portfolio in all fifty states.