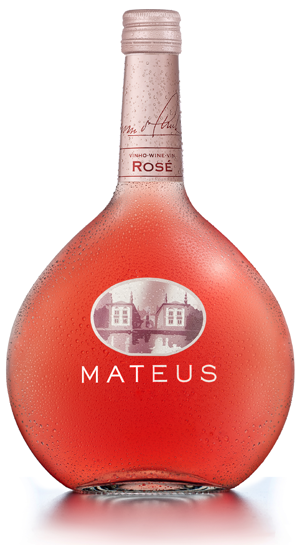 Mateus Rose

A light, fresh, young and slightly sparkling Rosé. Well-balanced flavors are enhanced by the soft and slightly fizzy finish.

Baga, Rufete, Tinta Barroca, Touriga Franca

Produced exclusively from red grapes, the vinification process relies on techniques identical to those used in white wine production. The wine obtains its distinctive pink colour, while maintaining a soft and fruity style, by avoiding prolonged contact between the grape juice and its skin.

While an ideal aperitif for light meals, grilled seafood or meat, and salads, it is also a fine pairing for Asian cuisine, BBQ and spicy foods. Serve chilled in a flute or tulip shaped glass.

Mateus Rosé is the Sogrape Vinhos flagship wine and perhaps one of the most iconic wines of our time, including present day, as the brand makes its grand 'comeback .' The wine dates back to 1942 in Portugal, when Fernando Van Zeller Guedes created a distinctive, slightly fizzy Rosé, in a bottle inspired by the hip-flasks belonging to the soldiers of World War I. Today, Mateus continues to offer that welcome departure from the everyday, and the brand has evolved to be reminiscent of a coastal, Mediterranean setting. And with over 70 years perfecting the wine, it is once again in demand in the farthest corners of the world.