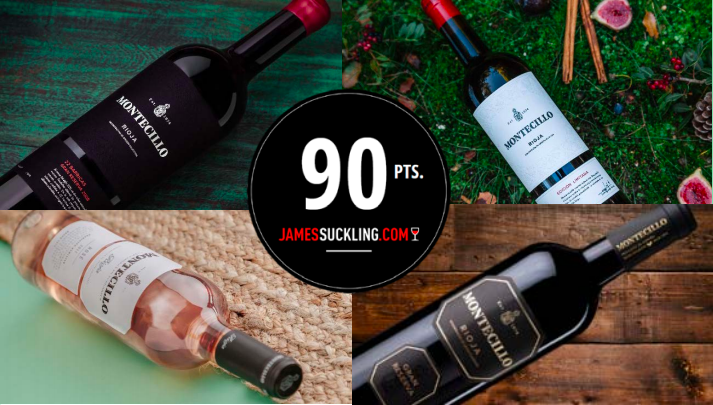 MONTECILLO WINES AMONGST THE BEST RATED IN SPAIN BY JAMES SUCKLING
Five wines from Montecillo's range obtained excellent scores at the latest Spanish Wine tasting conducted by the internationally recognized journalist and wine critic
Fuenmayor, Rioja Alta. August 2018.
Five wines from the century-old winery in Rioja Alta, Montecillo, shine with international recognition by obtaining 90 points and over at the latest tasting conducted by one of the most influential wine critics worldwide – James Suckling.
The American writer, who gained international recognition through publications like Wine Spectator and Forbes, has recently published the ranking of the best Spanish wines at JamesSuckling.com. During their stay in Spain last June, the digital publication's team tasted and classified over 2600 wine samples.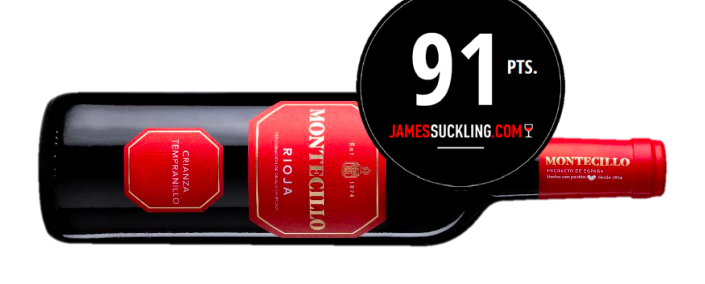 The 100-point based system only classifies as exceptional those wines with 90 points or more. Of the 6000+ existing wine brands from D.O.Ca. Rioja, 750 were tasted by the panel; the Rioja wines that obtained 90 points and over represented 20% of the total wine sample. One of the wines distinguished was Montecillo Crianza 2015, which obtained 91 points and was described as "soft and round-textured with a delicious finish."
Four other wines within the Montecillo range obtained 90 points, confirming once more the winery's high-quality winemaking credentials. Bodegas Montecillo's winemaking philosophy is based on the careful selection of the very best grapes and providing a longer aging period to each wine compared to the region's average – conferring the optimum roundness for each wine before their market release.
The online publication also highlighted the "…perfumed watermelon and light strawberries…" of Montecillo Rosé 2017; as well as the "assertive dark fruit and very rich array of smooth tannins…" of Montecillo Gran Reserva 2010 and the "dark, spicy notes as well as dried blueberries and cassis…with a sinewy thread of tannin with earthy and dark-fruit flavors…" of Montecillo Edición Limitada 2012. The notes also drew attention to "plenty of oak played into ultra-ripe fruit with dense tannins that carry plenty of dried fruit and currant flavors" of Montecillo 22 Barricas 2010 – a wine crafted in extremely limited quantities as a tribute to the winemaking technique of the winery's founder Celestino Navajas.
About Bodegas Montecillo
Bodegas Montecillo is the oldest winery of Fuenmayor in Rioja Alta and the third-oldest bodega in the entire D.O.Ca. Rioja, the very first wine region in Spain to obtain the status of Qualified Denomination of Origin.
More than 140 years after its foundation, its winemaking philosophy remains untouched: crafting contemporary wines that stay true to their classic roots, a meticulous selection of the best varietals, and an artisanal aging process in French and American oak barrels along with further bottle-aging in order to deliver quality coherence and consistency vintage after vintage.
Its story dates back to the second half of the 19th Century, when a handful of enthusiasts, with a determined belief in Bordeaux winemaking methods, started crafting wines with the intention of transcending the limits of the national market. One of the first to do so was Don Celestino Navajas Matute, from a family with deep historical roots in Fuenmayor, who founded the winery in 1874. Don Celestino showed great vision sending his son, Alejandro, to study in Bordeaux; in time, he and his brother Gregorio went on to create the company Hijos de Celestino Navajas. The following generation, in the form of Alejandro´s son José Luis Navajas, studied oenology in Burgundy and Penedés. In 1943, he became the manager of the family winery, and drove the quality and success of its wines by introducing new innovative techniques in Rioja such as cold fermentation.
José Luis Navajas had no descendants and decided to place his ancestor's legacy in the best possible hands. This is how he established a relationship with another family with a long winemaking tradition, Osborne, who acquired Montecillo in 1973.
Since then, Osborne has fostered the great strengths of the Fuenmayor winery – quality, tradition and know-how – by building new, more spacious and functional facilities between the towns of Fuenmayor and Navarrete. These winemaking facilities were conceived for meticulous winemaking and for crafting age-worthy wines – the true hallmark of the winery's name. Its commitment to excellence and passion for quality and specialization have turned Montecillo into a reference for Gran Reservas and long-cellaring Riojas. Its walls treasure an artisanal underground cellar where hundreds of thousands of bottles are individually hand-piled with unequalled precision and stability. There, surrounded by darkness, calm and mystery, the wines of Montecillo are laid down to achieve greatness. Years gone by will turn them into Gran Reservas, and they will be called forth to perpetuate the legend behind an everlasting name: Montecillo.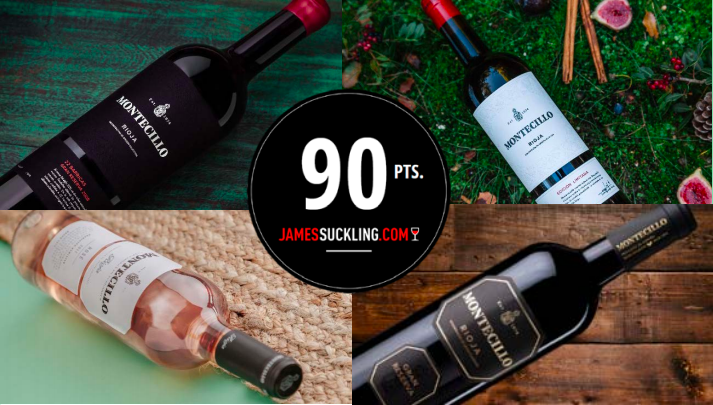 About James Suckling
James Suckling is one of today's leading wine critics whose reviews are read and respected by wine lovers, serious wine collectors, and the wine trade worldwide. He is CEO/Editor of JamesSuckling.com, the wine media platform and events company with offices in Hong Kong and Bangkok.
Since starting his career, Suckling estimates he has tasted close to 200,000 wines. This year he and his small team of tasters, including Australian Nick Stock in Melbourne, Brit Stuart Pigott in Berlin, and son Jack Suckling in Bangkok, tasted more than 16,000 wines in 2017.
JamesSuckling.com tries to taste all of the wines in their respective country of origin and spends months each year traveling the globe and setting up tastings, visiting wineries and talking to winemakers. JamesSuckling.com currently has more than 600,000 unique visitors to its website per year. Further information at: JamesSuckling.com
Montecillo® is a registered brand of Bodegas Montecillo. Enjoy Montecillo wines responsibly.
Social media channels:
Facebook: @BodegasMontecillo
Twitter: @VinoMontecillo
Instagram: @BodegasMontecillo
YouTube: www.youtube.com/c/BodegasMontecillo
Contact:
www.bodegasmontecillo.com
Further information and/or imagery available upon request