All content on this page is sourced from Wines of Portugal.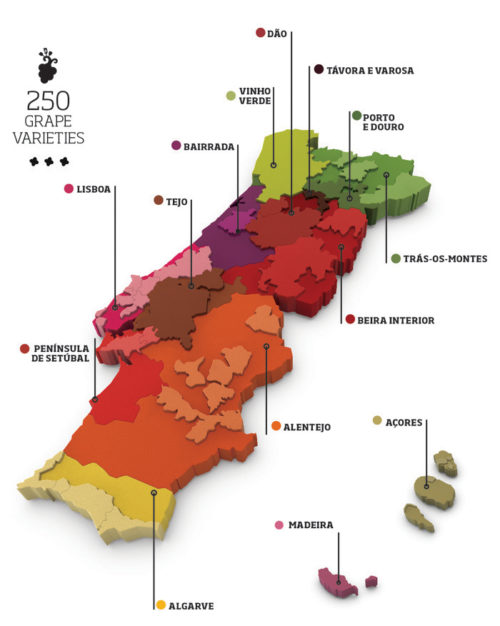 Beyond Portugal's coastline of sandy beaches and jagged cliffs lies a diverse land steeped in over 800 years of rich history. Here, past and present are inextricably intertwined, and life's simple pleasures reflect the abundant heritage.
A place of sun and sea, history and cosmopolitanism, the truly relaxed and carefree spirit of Portugal's inhabitants is balanced by its robust cultural diversity. Geographically, Portugal is defined by its distinctive Atlantic flavour, which encompasses nature, beaches, gastronomy and entertainment.
In this land filled with sunlight, the past reinforces the sense of the present. Here, medieval castles stand alongside modern architecture; Roman, Gothic and Manueline monuments punctuate a landscape of beaches with deep blue seas and rolling green plains.  The never ending contrasts: Historic villages and luxury resorts, the cuisine of great modern chefs and simple culinary traditions, contemporary art museums and prehistoric rock drawings, world class golf courses and busy vibrant avenues; all reflect the welcoming juxtaposition of Portugal.
Here, people are creative, open and welcoming, and wish to share with you the best of everything they have and know. Here, life is a sensory celebration.
The Alentejo region covers about a third of Portugal, and winemakers in the remaining two-thirds can often be heard to complain about the popularity of Alentejo wines.
This huge, sun-drenched area, covering much of the southern half of Portugal, has in recent years become an important source of big, ripe, fruity, easy-drinking reds which often dominate the wine lists of Lisbon restaurants.
The Alentejo attained its first sub-regions in 1989. Portugal's entry into the EU had brought long-overdue investment in vineyards and cellars. Modern technology – especially temperature control – have made it possible to make good, softer whites as well as rich reds. The Alentejo also has some wonderful old vines.
---
Region
The Alentejo is vast and varied. Only five per cent of the land is planted with vines. One of the most exciting areas is right up in the north-east corner, around the city of Portalegre and over towards the Spanish border. This high mountain country has a much cooler climate than the rest of the Alentejo, and the potential to make more elegant wines. The central Alentejo, wide, rolling country around the towns of Évora, Borba, Reguengos and Estremoz, is hotter, and makes wines with a good balance of acidity. Even further south, in the bakingly-hot country around Beja, winemakers are producing some excellent wines. Soils vary hugely, from granite and schist to chalk.
Between towns, you can drive for miles without seeing a soul, through cork and olive groves, past sweet-scented lavender fields, golden wheat, maize, sunflowers, vines, and grazing livestock.
Sub-regions
DOC Alentejo wines can be made only in certain small enclaves within the greater Vinho Regional Alentejo region. For the purpose of regulating grape-growing and wine-making in the varying microclimates and terrains, DOC Alentejo is divided into eight different sub-regions: Portalegre, Borba, Redondo, Vidigueira, Reguengos, Moura, Évora and Granja/Amareleja. All DOC wines are labelled DOC Alentejo, and sometimes qualified by the name of the sub-region as well.
An increasing number of regional wines are labelled 'Vinho Regional Alentejano', some of them made outside the DOC areas, some within, but outside the rules. A long list of grapes is permitted for Vinho Regional Alentejo, including many foreign varieties, such as Syrah, which is seriously gaining in importance.
The prettiest and most pleasant time to visit is April or May, when everything is still green and aromatic, before the heat and drought of the summer months. Less than five per cent of the Portuguese population lives in the Alentejo. Occasionally you catch sight of a whitewashed farmhouse atop a gentle hill, or 'monte'. (You will meet the word 'Monte' on wine labels – it is used here to mean farmhouse or estate.) The Alentejo is famous for its beef, and for deliciously moist and flavoursome ham and pork from the black pigs that roam free in the cork forests, feeding on acorns.
---
Main White Grapes (variable according to sub-region):
Arinto, Antão Vaz, Roupeiro, Fernão Pires, Perrum
Main Red Grapes (variable according to sub-region):
Aragonez, Trincadeira, Castelão, Alfrocheiro and Alicante Bouschet
Wines of Alentejo

Trinca Bolotas

Vinha do Monte
In the western part of the Beiras, between the mountainous Dão region and the surf-washed Atlantic beaches, Bairrada has a mild, maritime climate with abundant rainfall.
Flat in the west, the region rises in the east into small hills, intensively farmed and sometimes wooded. This is the land of leitão, the delicious roast suckling pig, and also, traditionally, of firm red wines made from the Baga grape – red Bairrada used to contain a minimum 85% of Baga.
The traditional style of Bairrada still exists, sometimes labeled as 'Bairrada Clássico' – and it can be one of Portugal's most exciting wines in the hands of a skilled grower and winemaker.
---
Baga
Fully ripe Baga can make wines that are densely structured, complex, blackberry-fruited and aromatic, with marked acidity and firm tannins, and great ageing potential. Other growers have turned to alternative red Portuguese grapes such as Touriga Nacional but also, sometimes, international varieties such as Merlot, Cabernet Sauvignon and Syrah, all within the region.
Generally speaking, Bairrada wines can age extremely well, sometimes for more than 10 years, giving rise to a fine bouquet of honey, smoke and spice.
Other Wine Styles
Bairrada also makes whites – from easy-quaffing flowery-aromatic examples to wines with mineral and citrus, that are often unoaked, and can be capable of ageing to creamy, intense complexity. Traditionally made principally from Arinto, Bical, Cercial and Maria-Gomes, Bairrada white blends may now also include Chardonnay or Sauvignon.
There are also a great many delicious bottle-fermented sparkling wines, from the traditional white trio plus sometimes Chardonnay, Baga, or muscatty-floral Maria Gomes. Some red sparkling wines can be found as well – particularly good with leitão!
Bairrada has a great heritage of traditional bottle-fermented sparkling wine production, a trend that is developing and increasing in the 21st century.
---
Main White Grapes: 
Arinto, Bical, Cercial, Sercialinho, Chardonnay, Fernão Pires (Maria Gomes) and Sauvignon Blanc
Main Red Grapes: 
Baga, Touriga Nacional, Merlot, Syrah and Cabernet Sauvignon
Wines of Bairrada

Red Blend
Surrounded on all sides by mountains, the Dão region is protected both from the direct influence of the continental climate and from the chill and rains from the ocean.
The really special thing about the wines of the Dão, whether red or white, is the delicious balance of all their constituent parts – acidity, alcohol, concentration of flavour – it all adds up to elegance.
The region might have been created with winemaking in mind – you couldn't wish for better conditions.
---
Region and Climate
Surrounded by the mountain chains of Caramulo, Buçaco, Nave and Estrela, the Dão region is totally protected from cold winds, summer rain clouds from the Atlantic, and even continental storms. Within its mountain walls, Dão is full of contrasts: warmer in the west, cooler in the north and east, gently rolling hills, deep valleys, forests and mountain slopes; damp, cold winters; and summers that are generally sunny, warm and dry. Yet in late summer, the days become rapidly cooler, allowing for long, slow ripening and the development of complex flavours.
The vineyards lie high in the hills, at 400 to 500m, even sometimes as high as 800m, on decomposed schist or granite. Vineyards need to be carefully sited for best exposure to the sun to ensure perfect ripeness. This gives Dão wines an innate balance of lovely, bright, mineral acidity, wonderful fragrance, character and intensity.
Grapes and Styles
Once upon a time, many Dão wines lost much of their elegant, fruity character by excessive ageing in old barrels. With shorter ageing in today's newer oak barrels, or even unoaked wines, the natural quality can shine through. Top red estate wines tend to be composed at least half of the star variety Touriga Nacional, and maybe blended with Alfrocheiro, Tinta Roriz or possibly a few other local varieties.
Not all Dão is red. The whites are improving (especially from the Encruzado grape), but only in the high vineyards around Tondela do whites outnumber reds. There are also excellent Dão rosés and sparkling wines.
Most vineyards have been in the same family for generations. More than 30,000 grape-growers, some with very tiny plots, produce about half the DOC grapes. Co-operatives are very important here, nowadays they employ modern technology. But the revival in quality was led by individual producers, both large and small.
---
Main White Grapes:
Encruzado, Bical, Cercial and Malvasia
Main Red Grapes:
Touriga Nacional, Alfrocheiro, Jaen, Aragonez and Rufete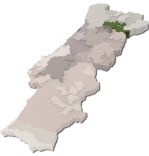 Long famous as the source of port wine, the Douro is now also renowned for its fine, rich unfortified wines, both red and white.
Steep slopes shelve deep into the River Douro. Hills stretch off into the horizon, and narrow roads wind around the hillsides. Vine terraces bask in the sun, their soil pure schist and granite. This wild and beautiful part of northern Portugal offers extraordinarily good conditions for wine grapes, though life is not easy for Douro winegrowers. Roots force down between layers of rock seeking out the limited water, while the schist absorbs and then radiates heat.
For centuries, Douro growers have been supplying an eager world with Port. Now wine experts the world over recognise that the Douro region also offers ideal conditions for making unfortified wines of the highest quality, both red and white. Producers here are crafting stunning and highly distinctive wines that rank amongst Portugal's most intense and complex. There are separate DOCs for unfortified wine and for Port in the Douro, although geographically both lie within the same outer boundaries.
---
Grape Varieties
A plethora of different grape varieties are to be found in the Douro region. Some vineyards still have the traditional mix of varieties. There are winemakers who see this grape variety mix as the key to top quality. Others maintain that the best grapes for unfortified wines are three of the varieties grown nowadays in modern, single-variety vineyards for Port: Touriga Nacional, Touriga Franca and Tinta Roriz; some also favor Sousão (or Vinhão) for the welcome acidity it brings. What is certain is that single variety plantings make the viticulturalist's task easier, since pruning, vineyard treatments, and picking can be done at the most appropriate moment for a complete block of vines.
Douro Scenery
The traditional vineyard scenery, dominated by the old, narrow, stone-walled terraces, has changed in many places, though preserved in the central section of the region by World Heritage Site status. Elsewhere, modern terraces are now sculpted by bulldozers and mechanical diggers, and separated by earth rather than stone-walled banks, the wider rows providing room for tractors.
On gentler slopes, modern vineyards are generally planted vertically, dispensing altogether with terracing. There are big changes in the wineries, too. The Douro Valley is probably the last of the world's major wine regions to still be pressing significant quantities of its grapes by foot – in shallow, open wine-fermenters, called lagares.
But recent years have seen, with excellent results, the widespread introduction of 'robotic lagares' designed to simulate the gentle action of the human foot.
Sub-regions
The Douro region is divided into three geographical sections, Baixo Corgo, Cima Corgo and Douro Superior. The western-most area, the Baixo Corgo, is the coolest of the three, influenced by the sea, its wines are a little lighter. The Cima Corgo, centred on the little town of Pinhão, is the heartland of the Douro, cut off by mountains from the maritime influence; it accounts at the moment for two-thirds of the Douro's vines. To the east, towards the Spanish border, the Douro Superior is wild and isolated, subject to extremes of climate, very cold winters and roasting summers. Vine-growing here has historically been limited and sparse. However, there has been considerable planting in recent years, as producers have begun to comprehend the potential of this slumbering region. A measure of how difficult it is to colonise the rocky terrain of the Douro with vines is that a mere 17 per cent of legally potential vineyard land is planted with vines.
Port Wine
The base wine for Port is made and fortified in wineries in the Douro Valley, then transported to the Port lodges of Vila Nova de Gaia, opposite Porto (or Oporto), at the mouth of the river, for ageing. Port comes in a variety of styles, from young, fruity white, tawny and ruby to the finest and most expensive, vintage Ports and aged tawnies. Vintage Port is made in the best years, and is bottled after only two years in barrel, keeping it rich and red. Vintage Port will benefit from ageing in bottle to add complexity. Single Quinta Vintage Ports come from individual estates. Colheita Ports also come from a single, stated year, but are aged for a minimum of seven years in barrel before bottling. Tawny Port that specifies a number of years on the label (10, 20, 30, 40) is paler in colour, more mellow, and subtle and complex from long ageing in barrel.
---
Main White Grapes:
Viosinho, Malvasia Fina, Gouveio, Rabigato, Côdega, Donzelinho Branco, Esgana Cão and Folgazão
Main Red Grapes:
Touriga Nacional, Tinta Roriz (Aragonez), Touriga Franca, Tinta Barroca, Tinto Cão, Sousão, Bastardo, Mourisco Tinto, Castelão, Rufete, Tinta Amarela (Trincadeira) and Tinta Francisca
West and north of the city of Lisbon, the Lisboa wine region was until recently known as Estremadura. A lot of wine is made here, much of it in co-operatives, in a very wide variety of styles and qualities. This region where the "vinho regional" Lisboa is predominant also has nine DOC.
Fresh sea breezes keep the windmills turning in this charming, hilly coastal region to the west and north of Lisbon. They also keep the vineyards cool, especially on the seaward side. The Vinho Regional Lisboa area (which was known as Vinho Regional Estremadura until the 2008 vintage) has more DOCs than any other Vinho Regional area of Portugal: a total of nine, of which one is for aguardente (brandy) rather than wine. Many excellent wines are also sold as Vinho Regional Lisboa. There are a growing number of private wine estates, but a great many small-scale producers deliver their grapes to large co-operatives. The region makes a lot of inexpensive quaffing wine, known as vinho da mesa.
---
Sub-regions
It's hardly surprising that the two historic DOC regions west of Lisbon have dwindled in recent decades. Land is at a high premium along the region's southern coast – fast roads head into Lisbon from the fine sandy beaches, the posh towns of Cascais and Estoril, historic palaces, mansions and smart commuter houses. In the southern DOC of Carcavelos, long famous for its sweet wines, most vines have given way to buildings. DOC Colares is likewise little in evidence. The Colares region begins around the headland from Cascais, beyond the spectacular, golden surfing beach of Guincho, inland from Cabo da Roca, Europe's westernmost headland. The vines of Colares were famously planted deep into the sand dunes and protected by windbreaks, produce the high-acid, tannic reds legendary for their keeping power. The main grape of Colares is the tannic Ramisco, scarcely found nowadays elsewhere in Portugal – even in Colares, only 10ha remain. White Colares is based on Malvasia grapes.
DOC Bucelas is the third of the small, historic wine regions close to Lisbon. Though only 25km north of Lisbon's central Baixa district, it has survived and indeed grown in recent years, and justifiably so, as it produces some of Portugal's finest white wines. Bucelas (white only, both still and sparkling) is crisp, dry and mineral, based largely on the Arinto grape. Whilst these wines can be enjoyed young, Bucelas can develop complexity and finesse with two or three years' maturation.
Just north of Bucelas, still inland, lies the small region of Arruda. This is delightful, fairy-tale country: hills, an ancient ruined castle, old Roman roads, historic windmills (nowadays also modern wind turbines), and vineyards, growing mostly red grapes. Since 2002, DOC Arruda wines may include international grapes such as Cabernet Sauvignon, Syrah, Chardonnay, as well as some classy grapes from elsewhere in Portugal, such as Touriga Nacional and Touriga Franca. (The same goes for the other DOC regions in the central part of the Vinho Regional Lisboa area: Alenquer, Torres Vedras and Óbidos)
In this mild climate, grapes can ripen at leisure, and at best can produce very good, concentrated red wines and whites with good, fresh acidity.
North again from Arruda, still inland, in the countryside and around the town of Alenquer, DOC Alenquer is protected from the raw Atlantic winds by the chalky hills of the Serra de Montejunto. In this mild climate, grapes can ripen at leisure, and at best can produce very good, concentrated red wines and whites with good, fresh acidity. There are very highly motivated, quality-conscious producers in Alenquer, and some promising, innovative winemaking.
It's cooler to the seaward side of the Serra de Montejunto, in DOC Torres Vedras, especially on the region's western flank, where sea breezes are strongest. This is a source of light, dry white wines, including a low-alcohol white known as Vinho Leve. There are a few light, tangy red wines, too. Back inland, north of Alenquer, the DOC Óbidos area, with the beautiful, walled medieval town of Óbidos on its north-western flank, is quite cool, producing good, crisp whites (including Vinho Leve) and some of Portugal's finest sparkling wines, as well as some reds which are at best light and elegant.
To the windswept west of Óbidos, Lourinhã is the DOC for brandy. The region's north-eastern tip reaches out to the busy fishing port of Peniche and the Cabo Carvoeiro headland. Northwards beyond the cape, an ancient pine forest, the Pinhal de Leiria fringes the surfing beaches, curbing the spread of the dunes, taming the gusty ocean winds, and protecting the vineyards of Encostas de Aire, Vinho Regional Lisboa's largest and northernmost DOC. This is hilly country, where pears, apples, peaches and figs vie for space with vineyards. The region surrounds the pretty, cobbled town of Leiria, the famous pilgrimage centre of Fátima, and the fabulous monasteries at Batalha and Alcobaça, both UNESCO World Heritage sites. Both white and red wines are light, fresh and low in alcohol.
---
Main White Grapes:
Arinto, Fernão Pires, Malvasia, Seara-Nova and Vital
Main Red Grapes:
Alicante Bouschet, Aragonez, Castelão, Tinta Miúda, Touriga Franca, Touriga Nacional and Trincadeira
Wines of Lisboa

Red Blend
Vinho Verde is the biggest wine producing region in Portugal, located up in the cool, rainy, verdant north west. The vines grow in fertile, granite soils along rivers that flow from the mountains of the east to burst out into the ocean between golden surfing beaches.
Across the vast expanse of north-west Portugal, a lush, green mantle flows from craggy mountain peaks and blanketing hinterland valleys sweeping down to the sea. From Melgaço to Vale de Cambra, and Esposende to the granite mountains at Basto by the border with Trás-os-Montes, the land rises and falls. Here and there, towns and villages nestle amongst the vegetation. This densely-populated, fertile land is the birthplace of Vinho Verde.
From this unique region and its native grapes comes a unique white wine. Light, fresh, young and delightfully aromatic, Vinho Verde suits all kinds of occasions: a sunny picnic, a restaurant meal, a romantic night in… Vinho Verde is great with salads, fish, seafood, vegetable dishes, citrus sauces and Asian foods. On the international market Vinho Verde is renowned for its white wines, however you can also try red Vinho Verde. Like the white, it is light and fresh, best served chilled, and a favourite with the locals in traditional restaurants. It's a fantastic match for grilled sardines. Vinho Verde can also be rosé, or sparkling.
---
Sub-regions
Climate varies considerably across the Vinho Verde region, and this is reflected in the nine subregions, named after rivers or towns: Monção and Melgaço, Lima, Cávado, Ave, Basto, Sousa, Baião, Paiva and Amarante. Local grapes vary, too. Alvarinho wines (made from the delicately aromatic, full-bodied Alvarinho grape) are a specialty of the sub-region Monção and Melgaço in the northern part of the Vinho Verde Region. Rainfall here is lower, and in the summer, temperatures are noticeably higher than in the rest of the region. In this microclimate, the Alvarinho grape gives a full-bodied dry wine with a complex, subtle, fresh aroma reminiscent of apricots, peaches and citrus fruits, and a distinctive mineral quality, with smoky qualities.
To the south of Monção and Melgaço are the sub-regions Lima, Cávado and Ave. Here the main grape variety is the delicious Loureiro, sometimes also the Pedernã (or Arinto) and Trajadura. The wines here are typically fresh and aromatic, often with a scent of citrus and blossom. The hilly sub-regions of Basto and Sousa generally also produce light wines, from various grape varieties. In the sub-regions Amarante and Baião, the Avesso grape gives dry, creamy, mineral white wines. Amarante and Paiva, the latter located south of the River Douro, have a reputation for their reds.
Past and Future
The quality of Vinho Verde, and the local brandies, has improved greatly over recent years, thanks in part to better training and renewed enthusiasm amongst today's producers, and in part to better grapes. Where once vines scrambled up trees and over high-flung pergolas, many of the region's vineyards today are trained along modern, wired rows, so that the grapes are better exposed to sunlight and breeze, and thus riper and healthier.
Some delicious wines are also made in the region under the more flexible rules of Vinho Regional Minho, sometimes blends of local and foreign grapes, sometimes oaked.
---
Main White Grapes (varying according to sub-region):
Alvarinho, Arinto Avesso, Azal, Loureiro and Trajadura
Main Red Grapes (varying according to sub-region):
Alvarelhão, Amaral, Borraçal, Espadeiro, Padeiro, Pedral, Rabo de Anho and Vinhão.