In 1865, Jose Maria Macieira created his company with the purpose of selling olive oils, vinegars, wine and spirits. Twenty years later, the company launched its own brandy production and introduced Macieira "Cognac", as it was then known, to the market.
The idea to produce Macieira in Portugal came from Commander and knight of the Legion of Honor of France, Jose Guilherme Macieira, son of the founder, after he studied winemaking in the French region of Cognac.
Internationally recognized, Macieira has won various awards since making its presence at the World Expo in Paris in 1889. Vouching for the quality of Macieira's "5 STARS," the brand was selected to replenish stocks of cognac destroyed during World War II.
More than 130 years after its launch, Macieira remains the preferred brand and market leader in Portugal. Enjoyed by generations of consumers and appreciators, from kings and poets, to connoisseurs and pure brandy lovers, its elegant and insightful character has allowed the brand to evolve and adapt to the current market, always celebrating its origins and expertise.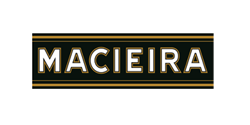 PRODUCTS