Well-balanced with vibrant citrus, green apple and lemongrass flavors and a subtle effervescence, Gazela is a fresh, approachable and unstuffy Vinho Verde. And at just 9% ABV, Gazela is lower in alcohol and calories than other white wines. Just like you might say "Hell Yeah" to a fun, last-minute opportunity, we say #GazelYeah to impromptu shared moments, and to Vinho Verde becoming the next US wine trend.
Nestled in the northwest corner of the country, Vinho Verdes is one of the oldest wine regions in Portugal and translates directly to "green wine," though not because of the color—it means "green" as in "young."
Gazela is released 3-6 months after harvest and best enjoyed within 12-18 months of release. Since 2012 the Vinho Verde category has grown over 30%, reaching nearly 600,000 cases. Vinho Verde and Gazela in particular, are suited to the new consumer who favors unique brands at affordable prices, and from much smaller vineyards than those mass produced from America or Australia.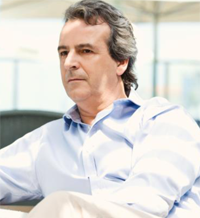 Miguel Pessanha
Miguel was born in Porto in 1962 and his enthusiasm for winemaking dates back to childhood. Accustomed to spending weekends and holidays on the family wine estates, when the time came to choose a career he had two options in mind: Medicine or Oenology. He chose the latter, and in 1980 this future winemaker went to Bordeaux, in France, where he studied for seven years, obtaining a National Diploma in Oenology, a Bachelor's Degree in Biochemistry and Cell Biology as well as a Master's Degree in Oenology and Ampelology. In 2012, he extended his qualifications further with an MBA in Business Administration and Management.
One of his other great passions is the sea and competition sailing, and he has taken part in various European and World championships.
Miguel began working for Sogrape Vinhos in 1988 and he was charged with diversifying the company's entire range of wines from the Vinho Verde, Douro, Bairrada and Alentejo regions. In 1999 he took up the reins as Director of Oenology, with responsibility for the Mateus range and Herdade do Peso (Alentejo) wines. A few years later, in 2007, as a result of his sound technical knowledge and his organizational and leadership skills, he took over coordination of the company's winemaking teams, a position he assumed exclusively from 2012. This led to a position on Sogrape's Board of Directors in 2014, with responsibility for oenology, viticulture and the supply chain.
Today, Miguel Pessanha's position is quite challenging. His role as a Director has the clear objective of raising the prestige and recognition of the Sogrape range to greater heights. Directly in charge of the winemaking team in the Vinho Verde region, Miguel is the man behind the production of Gazela – a light and refreshing white from Portugal that is conquering the USA.
PRODUCTS