Sami Flichman, a Jewish immigrant of Polish origin, acquired the vineyard in 1910 after he won the winery in a card game. His son Isaac has continued with the development of the vines and wines. After finishing his studies in Mendoza and France and looking to increase the quality of the wines from Argentina, he planted vines in rocky, well-drained plots situated along the Mendoza river in Barrancas, southern Maipu. In the late 50s, he launched the first premium wine from Argentina called Caballero de la Cepa, one of the first high-quality wines that garnered international awareness.
Sogrape Vinhos purchased Finca Flichman in 1998 and invested heavily in restoring the vineyards and equipping the winery with modern equipment. Nowadays Finca Flichman has vineyards in Barrancas, Maipu and Tupungato in the Uco Valley.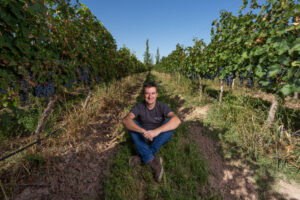 Rogelio Rabino
Agricultural Engineer from the prestigious university of Cuyo in Mendoza, Rogelio Rabino is the Head Winemaker at Finca Flichman and in charge of the winery's viticulture and enology departments.
Rogelio is a winemaker with vast experience of more than 16 years at the head of renowned Argentinian wineries, and is considered a reference to the young winemakers in Argentina.
With focus on sustainability and innovation, validating the history that precedes him at Finca Flichman. "I am enthusiastic about the continuous improvement, the quality standards in all the processes, the state-of-the-art technology and the excellent human resources that the winery has,"
describes Rogelio.
His work philosophy is to adapt to the culture of the winery and enhance its attributes with innovation and continuous improvement. "Always doing something new," he clarifies.
Among his objectives at Finca Flichman, are to make wines based on the terroir, with a strong emphasis on the sustainability of the vineyards.
PRODUCTS