Since 1751, the Ferreira name has been synonymous with high-quality Portuguese wines. The first Portuguese owned Port house, its history is intertwined with the the evolution of the Douro Region and its wines.
The story of Ferreira is inextricably associated with one extraordinary woman. Daughter of one of the company's founders, Dona Antónia Adelaide Ferreira was born in the country town of Régua, the gateway to the wines of the Douro Valley, in 1811. Though small in stature and reserved by nature, Dona Antónia was a charismatic and entrepreneurial visionary. She created new expanses of terraced vineyards and improved the hard lives of local farming families. The local people affectionatley called her 'A Ferreirinha' – 'the little Ferreira'. When 'The Ferreirinha' died in 1896, she left behind a portfolio of great Douro estates and an immensely successful business.
Today, more than 250 years after its foundation, Ferreira is the only great Porto Wine house that has always remained in Portuguese family hands. Ferreira is quintenssentially Portuguese and a benchmark in excellent, quality Ports. It is a symbol of the country and the culture it proudly honors.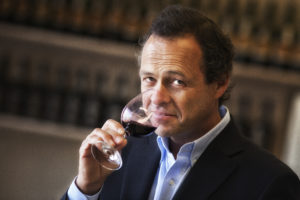 Luís Sottomayor
When joining the wine-making team in 1989, Luís Sottomayor knew he joined the right company to make the finest wines of the Douro. Today, with his skills recognized and the quality of his work proven, he heads the Oenology team for all Sogrape Port Wine brands, a responsibility he assumed in January 2003.
Although Luís's career trajectory has afforded him enriching experiences in several national and international wine-growing regions, his commitment to Douro and Port Wines earned him the 2010 Winemaker of the Year Award in the Fortified Wines category by Revista de Vinhos, one of the nation's most prestigious wine publications. In 2012 he was nominated for the Winemaker of the Year accolade at the International Wine Challenge and was named Winemaker of the Year by Revista de Vinhos in 2012 and 2017.
Arguing that the secret of great wines rests on the passion of those who write their history in the vineyards and cellars, Luís likes to emphasize the effort made at Sogrape Vinhos to preserve and enhance their legacy by combining the values of tradition with emerging desires and trends for the future. An avowed soccer supporter, Luís Sottomayor devotes some of his leisure time to rugby, horse-riding and hunting.