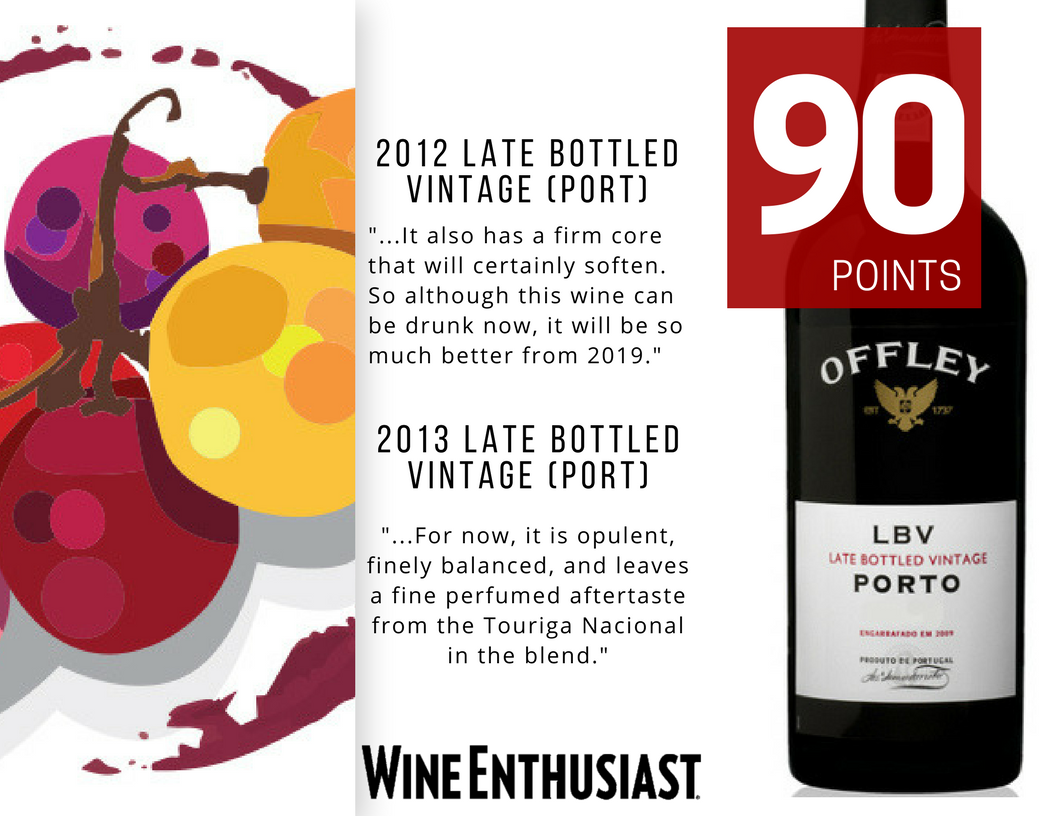 90 Points of Port
WINE ENTHUSIAST rated our Offley Late Bottled Vintage (Port) 2012 and 2013 90 points. 
The production of Offley Porto Late Bottled Vintage followed the traditional Porto Wine method. Grapes were collected by hand at their optimum maturation point and fermentation subsequently took place in wine presses and stainless steel tanks – the addition of wine spirit after three days effectively ending the process. The resulting wines were naturally sweet and rich, deep-purple and full-bodied, with greataromatic concentration.
OFFLEY HISTORY
Offley's history goes back to 1737, the year in which the Englishman William Offley founded the company to which he gave his own name. It is however from the 19th century onwards, the company acquired a new dynamism. In 1831, Joseph James Forrester, a nephew of the founder, joined the company. An academic and an artist, James Forrester was the first person to map the River Douro and its region, as well as to draw maps that became works of reference. He also undertook numerous wine growing studies and left important graphical works – paintings, drawings and sketches – in which he shows all his passion for the Douro.
James Forrester's contribution to the development of the region where Port Wine is made, as well as to its trade, earned him the title of Baron given to him by the King of Portugal.
Throughout the years the company invested in the production and marketing of fortified wines, in the planting of new vineyards and in the re-planting of existing ones (as happened at Quinta da Boavista), built and maintained unique ageing cellars at Vila Nova de Gaia, and expanded the world-wide distribution of the OFFLEY brand.
In 1997 OFFLEY was purchased by Sogrape, a wine-producing family company of international dimension, with quality wines and a strong focus on volume brands so as to meet market demands.