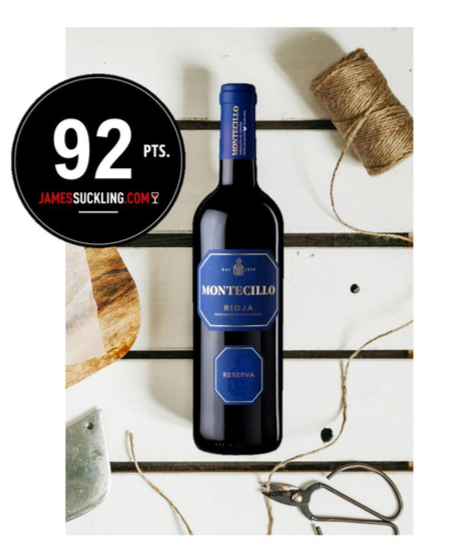 Reserve yourself a bottle!
Montecillo Rioja Reserva 2011 receives
92 points 

from James Suckling!
We are proud to share with you our latest ratings given by James Suckling, considered one of the most influential wine critics in the world. This recognition confirms once again Bodegas Montecillo as experts committed to quality and innovation.
About Montecillo Rioja Reserva 2011
Clean and brilliant, deep cherry red with russet rim, the Rioja Reserva has spicy notes, and vanilla and black fruits mingled with liquorice and mint nuances. It has good structure and elegant tannins, and a long finish for a sheer class wine.
100% Tempranillo
A second fermentation took place spontaneously in undergrounds tanks, after which the wine was transferred to handcrafted American oak casks, where it was aged for 18 months minimum followed by a period in bottle of at least 12 months.
An ideal companion for grilled or barbecued red meat and all types of stew, including slightly spicy dishes. A powerful wine that enhances the flavor of rich or cured cheeses like Manchego.
About Bodegas Montecillo
Montecillo is the third-oldest bodega in Rioja, the very first wine region in Spain to obtain the status of Qualified Denomination of Origin.
Since it's establishment in 1874, Montecillo has crafted exceptional quality wines with a personality of their own. The combination of state-of-the-art premises, designed to craft age-worthy wines, with the selection of the very best raw materials, underpin the quality of the Montecillo wine range.
To achieve the perfect balance, all wines age in handcrafted French and/or American oak of the highest quality. Bottle-aging follows an ancient artisan method, where hundreds of thousands of bottles are carefully piled by hand with unequaled precision and stability to then rest undisturbed, surrounded by the darkness and calm of the underground cellar – the exact same way it has been done for the past 140 years.
Montecillo is a registered brand of Bodegas Montecillo.
Enjoy Montecillo wines responsibly.
About James Suckling
James Suckling, 58, is one of today's leading wine critics whose reviews are read and respected by wine lovers, collectors, and wine trade worldwide. Suckling spent nearly 30 years as Senior Editor and European Bureau Chief of the Wine Spectator.
In 2010, Suckling launched his website JamesSuckling.com, a site that evolved from seeing a need for wine to be communicated in a more modern way. The site offers subscribers high-definition video content that reports and rates the best wines from around the world, with a focus on Italy, Bordeaux, Spain, Chile, Argentina, Napa Valley, Austraila and New Zealand. The site attracts viewers from more than 110 countries, with the largest audiences in North America, Hong Kong, Thailand, the UK, Austraila, Italy, and France.