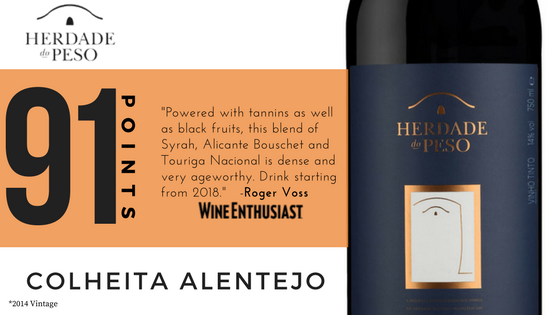 91 Points of Perfection
Herdade do Peso Colheita Red 2014 displays all of the authenticity and passion of Vidigueira, in Alentejo, and reflects the exuberant and captivating wines of Herdade do Peso – whose flavors, aromas and colors mirror life at its best and the region where they were born.
A lively ruby/violet color. On the nose, it has a powerful aroma of red and black forest fruits with notes of wild shrubs. Soft, rich and full bodied in the mouth with very elegant tannins. It possesses well-balanced acidity and a long, very complex finish.
A very rainy winter ensured good reserves of water in the soil, while normal temperatures for the season prevailed. The vegetative cycle was as expected. Summer was mild with temperatures never higher than 33°C and fresh nights contributed to a balanced maturation. Contrary to the climate in other winegrowing zones, the weather was consistently good throughout the harvest affording excellent conditions in terms of wine quality. In Vidigueira, the harvest of 2014 was the best in recent memory.
All the grapes used in this wine were produced in accordance with the Sustainable Agriculture Integrated Production guidelines as defined by the International Organisation for Biological and Integrated Control (OILB/IOBC): www.iobc-wprs.org/ip_ipm/IOBC_IP_principles.html. The rigorous compliance with these practices is certified by an independent organisation, recognized by the Portuguese State.
Herdade do Peso, Sogrape's estate in the Alentejo, is located in the region of Vidigueira, traditionally known for wheat production and olive plantations that now has become known for its exceptional wines. Twelve terroirs and seven different grapes varieties has endowed wonderful diversity for winemakers. The wines produced here have their own style, different from the rest of the Alentejo. They have, aromatic intensity, elegance, freshness and great aging potential.
Learn more about Herdade do Peso on the producer's website, Sogrape.
Full review – Wine Enthusiast