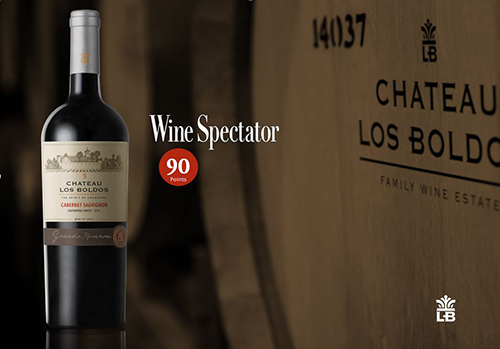 Chateau Los Boldos Cabernet Sauvignon wins 90 points in Wine Spectator!
In its article "12 Diverse Offerings from Chile" published on June 10th, Wine Spectator names three wines from Los Boldos as recommended offerings from South America — three out of only 12 wines altogether. Chateau Los Boldos therefore accounts for a very impressive 25% of the list!
In the article WS also reveals its ratings of the wines, with the Cabernet Sauvignon Grand Reserve 2014 scoring 90 points, Cabernet Sauvignon Cuvee Tradition 2014 scoring 89 points, and Carmenere Grand Reserve 2014 scoring 88 points.
The editors specifically call out the three wines topping the list, Los Boldos' Cabernet being the first.
"The three wines heading this list exhibit the diversity this South American country has to offer. The Cabernet from Los Boldos, made under the guidance of a French winemaker, is a well-knit combination of Old World finesse and New World fruit."
The article also includes its tasting notes for each wine:
Chateau Los Boldos Cabernet Sauvignon Alto Cachapoal Grand Reserve 2014:
Score: 90 / $17
A big ripe red, with plenty of dried herbal notes to the rich roasted plum of dark cherry flavors. Licorice and dark chocolate accents extend on the pure finish. Drink now through 2020.
Chateau Los Boldos Cabernet Sauvignon Cachapoal Cuvee Tradition 2014:
Score: 89 / $13
Offers a taut frame, with fresh-tasting dried cherry and plum tart flavors, backed by firm acidity. White pepper details show midpalate, leading to an engaging, juicy finish. Drink now through 2020.
Chateau Los Boldos Carmenere Cachapoal Grand Reserve 2014:
Score: 88 / $17
Ripe and dense, featuring flavors of roasted plum and dried berry, with plenty of tarry and smoky notes, sccented by green herbs. Shows muscular tannins, rounded out by cedar and graphite details on the finish. Drink now through 2018.
Note that as of June 15, 2016, the above-mentioned scores have not been published on Wine Spectator's website.
Also note that a Wine Spectator login is required to access the article " 12 Diverse Offerings from Chile "