In 1865, Jose Maria Macieira created his company with the purpose of selling olive oils, vinegars, wine and spirits. Twenty years later the company started its own brandy production and introduced Macieira "Cognac", as it was then known, to the market.
The idea to produce it in Portugal came from Commander and knight of the Legion of Honor of France, Jose Guilherme Macieira, son of the founder, after he studied winemaking in the French region of Cognac. The success of Macieira was immediate, its quality and reputation won over true connoisseurs in Portugal such as Fernando Pessoa who became loyal to the brand.
The quality of Macieira "5 STARS" has been recognized: the brand was selected to replenish stocks of cognac destroyed during World War II. More than 130 years after its launch, Macieira "5 STAR" remains the trusted and preferred brand of the Portuguese people. The market leader in Portugal is also appreciated in about 30 countries in 5 continents where Macieira "5 STAR" is currently exported to.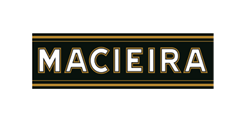 PRODUCTS