Macieira Brandy

On the nose, it is delicatly complex and typical of distilled wines, with subtle notes of anise and coriander due to the use of "vinho abafado." The taste is smooth, rich and well-structured, with subtle tannins. Flavors of vanilla, apricot, peach and honey are married with a discreet presence of chestnut sap.

Distillation of wines made from grapes that thrive in the temperate climate of Estremadura, whose wine culture dates back to Roman times.

Macieira is the result of the distillation of wines from select Portuguese grapes. The brandy is blended with aged fortified wines. The production is a 125 year old method of blending and ageing, using only small oak and chestnut Portuguese casks.

Traditionally enjoyed at room temperature as a digestif in a snifter. It also makes a unique cocktail - check back soon for recipes at the bottom of this page.

Macieira has been a favorite of the Portuguese people since 1885 and is now available in over 30 countries. The brand was selected to replenish stocks of cognac destroyed during WWII and was selected by the Portuguese court, among other recognitions granting it historical significance and evidence of its timeless taste.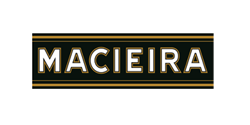 Macieira Products