Gazela Rosé

A fresh, semi-sparkling wine, displaying the best qualities of the Vinho Verde region in northwest Portugal. With a lush green landscape, Vinho Verde may literally mean "green wine" but it translates to "young wine." Gazela is indeed meant to be drunk young, and is an extremely versatile pairing for all types of cuisine.

Borracal (35%) contributes tart red fruit and structure; Espadeiro (30%) herbal notes; Amaral (30%) lends a vibrant hue and mouthwatering acidity; Vinhao (5%) bringing a bright aroma of wild berries

Made exclusively from red grape varieties grown in the Vinho Verde region. Aged for approximately 2 months, resulting in the renowned Vinho Verde freshness.

Gazela VV Rosé is ideal as an aperitif, with salads, fish, seafood and Asian cuisine including sushi.

One of Sogrape Vinhos' most iconic and global brands. Vinho Verde in Northwest Portugal is the biggest DOC in the country with over 51,000 acres of vineyards. Its crisp and unoaked wines are released quickly after harvest and are meant to be drunk young. In 2015, with the help of a national and innovative marketing campaign, the word "gazelar" made its way into Portuguese lexicon. The 'verb' can be defined as to embark on a fun or relaxing experience, whether it be spending time with friends, relaxing on the beach with a glass of wine – anything that begs someone to say to their friends, let's 'gazelar.'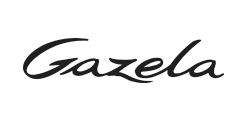 Gazela Products