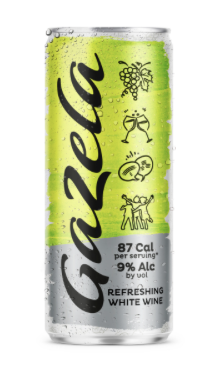 Gazela Gazela Can

A young coloured wine with a citrus hue. Fruity and intense aroma, with predominant notes of tropical fruit (passion fruit and pineapple), combined with an evident citrus character (ripe lime and lemon). In the mouth it has a lively flavour with an evident fruity component, framed with a good balance between an acid sensation and natural sweetness.

Bical, Fernão Pires, Loureiro and Others

Classical white wine vinification process, focused on preserving the aromatic component of the grapes, thus obtaining an intense expression. Aged in stainless steel vats.

Portable, durable and faster to chill, it can be served anytime, anywhere, direct from the can, over ice or in a cocktail.

Gazela Products