Gazela Vinho Verde

A light and refreshing Vinho Verde with a very soft citrine yellow color and slight fizz that stimulates the palate. An aromatic, flavorful bouquet, and notes of tropical fruit. Well balanced with a slight touch of sugar.

40% Louriero (contributing hints of bay leaves and spices); 30% Pedernẫ (white floral aromas and citrus notes); 15% Trajadura (apricot and tropical fruit aromas); 15% Azal (bright acidity and citrus overtones)

9% Alcohol and naturally 30% lower in calories than the average white wine (81 versus 120). Produced at the Quinta de Azevedo wine center, a historic estate near Barcelos, in the Vinho Verde region, and bottled immediately after fermentation and final blending, to guarantee ultimate freshness.

A delightful aperitif or accompaniment to grilled fish, chicken, seafood, and salads, as well as with spicy Asian dishes, such as Thai, Chinese and Indian cuisine.

One of Sogrape Vinhos' most iconic and global brands. Vinho Verde in Northwest Portugal is the biggest DOC in the country with over 51,000 acres of vineyards, and does not mean 'green wine' despite its literal translation, rather, a young wine. Its crisp and unoaked wines are released 3 to 6 months after harvest and are meant to be drunk young. A guerilla marketing campaign introduced the word "gazelar" into Portuguese pop culture, and it stuck. The 'verb' can be defined as to embark on a fun or relaxing experience, whether it be spending time with friends, relaxing on the beach with a glass of wine – anything that begs someone to say to their friends, let's 'gazelar.'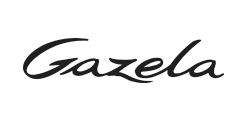 Gazela Products