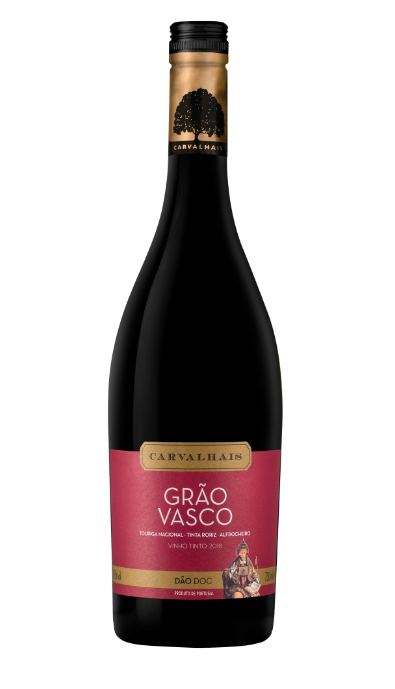 Quinta dos Carvalhais Grao Vasco

A light and elegant wine with the classic structure and flavor of the fine reds of the Dao region. Ruby-red with an intense aroma dominated by red fruits such as plum and raspberry, and flavors of eucalyptus and spicy notes. Grão Vasco is a smooth wine with good acidity, soft, round tannins, good fruit and balance, and a long, clean finish.

33% Touriga Nacional, 29% Tinta Roriz, 28% Jaen, 10% Alfrocheiro

Bottling is done in batches in order to maintain the freshness of the blend. The bottled wine is aged for varying lengths of time before release.

An excellent accompaniment for meat dishes, game, all kinds of poultry, and cheeses.

Grão Vasco was a famous Renaissance painter in Viseu, capital of the Dão region. Grão Vasco the wine was born in 1958 when Sogrape was founded, and has since been the very essence of Dão wine, further perfected in the '90s with modern winemaking techniques at Quinta dos Carvalhais. Grão Vasco's golden capsule was inspired by the painting São Pedro or Saint Peter, the most famous work of Grão Vasco. Quinta dos Carvalhais is now a benchmark for best practices in the Portuguese wine industry as it defends the interests and living conditions of many small winegrowers who deliver their grapes there.

Quinta dos Carvalhais Products