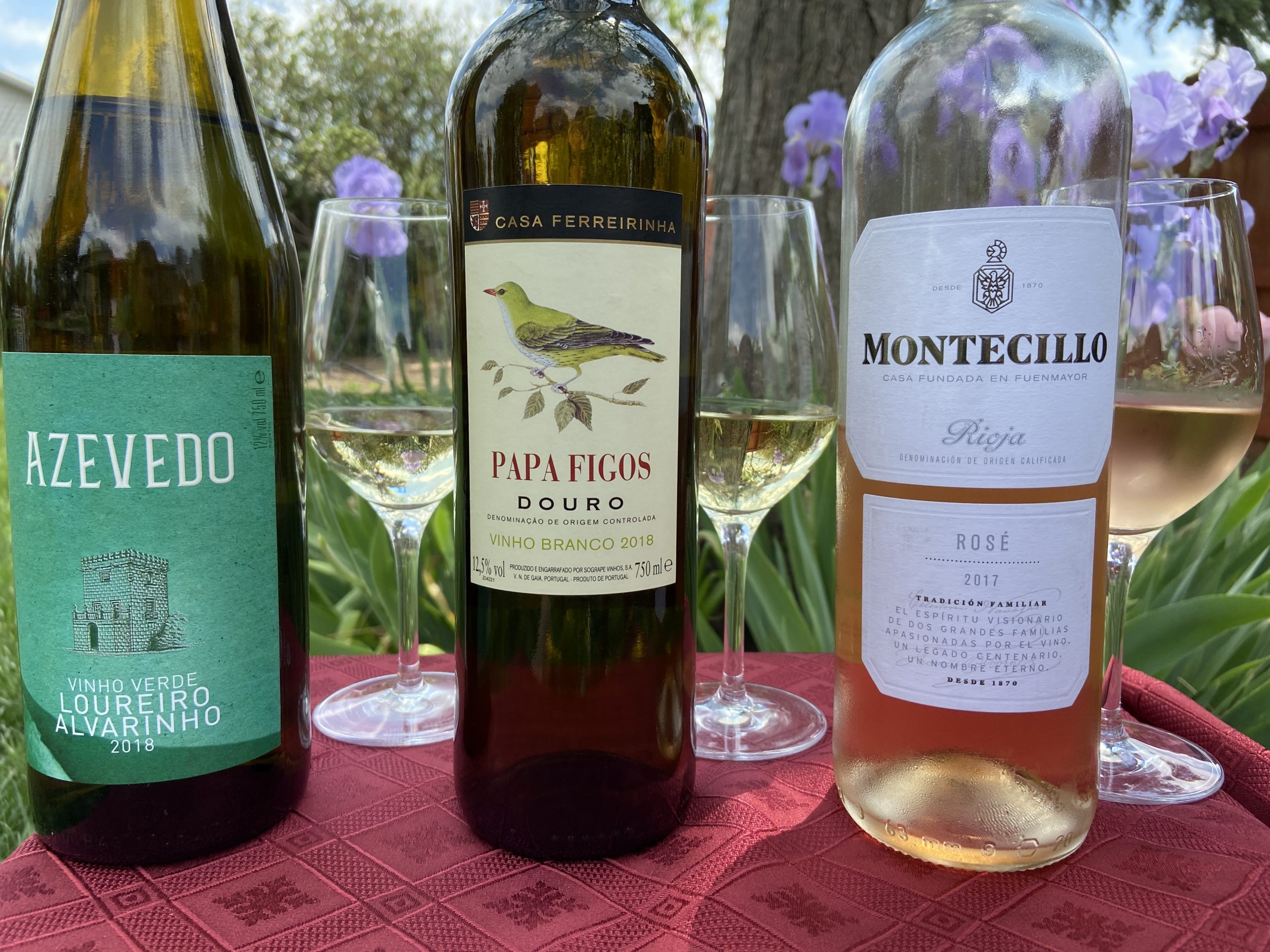 Somm Column: June Edition
Three Evaton Summer Wines To Fall In Love With
By Anita Musi
With the arrival of spring and sunny warm days, we are reminded that Summer is closer than we think.
And, with great wines to try, why not taste, discover, and travel to different places around the world with just a glass of wine?  From Vinho Verde in Portugal, to the Douro Valley and Rioja in Spain, we will discover three amazing wines.
In my June Somm Column, I have selected wines that impressed me for many reasons. These wines could be considered 'out of the routine' or esoteric types of wines.  While each has a great quality, all three wines have a rich history, and I just love wines with meaning. These wines all tell a story. They have survived over the years, even centuries in some cases. Vines that struggled during rough seasons and yet, able to create amazing and flavorful grapes to be converted into adventurous wines that, once you try them, you will fall in love with.

The Azevedo property dates back to the eleventh century. It was a royal donation by the King to the Lord of Azevedo to exercise justice in their lands, collect taxes, and organize their own army. The eagle you see on the capsule, is a symbol of power, strength, authority, and victory. The coat of arms is from the Azevedo family who had owned the house for ten centuries and for more than 30 generations. After acquiring the property in 1982, Sogrape continued to enhance the history by respecting the land and the vineyards.
While a traditional Vinho Verde Style is based on being off dry to medium sweet with carbonic gas and low alcohol; Quinta de Azevedo has a different approach. The choice of grape varieties, trellising systems and canopy management, combined with a modernization of the winery equipment, the search for expressing the local terroir with a high-quality wine has been the priority for the winemaker Antonio Braga.
The wine is a blend of 70% Loureiro which brings aromatic freshness and crispy acidity and citrus like lime, lime blossom, mineral notes, nectarine, ripe mango & grassy aromas, while the addition of 30% Alvarinho adds creaminess and ripeness, completing the blend with body and mouthfeel waxiness with tropical notes. On the palate the wine is dry, light bodied with watery acidity that keeps lingering in your mouth.

Since 1952, Casa Ferreirinha has been the leader in creating unfortified quality wines from the Douro Valley. These wines are versatile, food oriented and very approachable. The whole range has been made for over 35 years by the winemaker Luis Sottomayor.  These wines still surprise me every time I taste them. But this Papa Figos White that landed in the United States not that long ago, is an adventurous wine and once you give it a chance, you will be hooked!
To start let me do a quick mention of the beautiful label. Papa Figos are a rare migratory bird that can be found in the Douro Valley in Portugal. Nature is wise enough that when the bird arrives in the vineyards, it is an indication that the grapes have reached their ideal level of ripeness.
This Papa Figos White is a blend of four white grapes that come from elevated zones of the Douro Superior combining high aromatics and a great balance between sugar and acidity adding body to the blend.
Intense and fragrant with white fruit and herbal notes with a citrus finish, this blend is harmonious, elegant, and vibrant, all at the same time. On the palate it is fresh with well-balanced acidity and a long finish.

Crossing the frontier from Portugal to Spain and travelling to the east, we find in Rioja DOC, Montecillo, which is the 3rd oldest winery in the area, founded in 1870.  Today, after 6 generations in the family, Montecillo combines tradition and respect for the land which comes through in their wines.
This modern and unusual rose is a blend of Tempranillo, Garnacha and Viura. Winemaker Mercedes García ferments the grapes separately at a low temperature to conserve crispiness and aromas, concrete eggs and stainless-steel tanks.
This blush wine will definitely make you jump out of your chair! On the nose it is intense and extremely floral like acacia, and geranium combined with aromas of pomegranate, cranberry and strawberries. While on the palate it is dry with creamy notes, some mineral and nectarine notes can also be found.  The finish is fresh and invites you to have another glass.
Pairing these wines
Foods with a high acidic component will increase the sensitivity of your palate and the sweetness and fruitiness in a wine. Because of this, the recommendation is to pair these types of foods with wines that have a fair amount of edgy acid, light body, fruitiness, and freshness to help clean the palate, balancing each other out.
Here are some ideas of foods that will match perfectly with these three wines: tomatoes, fish & seafood, fish tacos, fried appetizers, Spanish tapas, shishito peppers, salads, Mexican dishes, Indian cuisine, spicy and Asian food and why not, a good charcuterie plate with light cheeses.
If you wonder what the best temperature is to serve these wines, I recommend between 48 to 51° Fahrenheit.  At this temperature, the wine will keep its aromatics while staying fresh. If you are not sure about how to measure the temp, just place the wine in the fridge for about an hour prior to serving and you are ready to go! On the other hand, I recommend only pouring about 2 oz max to avoid it heating up while we you are chatting with friends.
I will share a little secret that I have for the summer: I chill my wine glass before pouring wine. How? I just add a few ice cubes and swirl the wine glass until is cold then I throw away the ice and pour in the wine. This helps to keep the wine at a lower temperature.
With these few tips we are ready to enjoy the summer so sit back, relax, and travel the world through a glass of wine. I hope you enjoyed this article and you enjoy these amazing wines I suggested! Cheers!
Please feel free to contact me if you have any comments, suggestions or questions at [email protected]