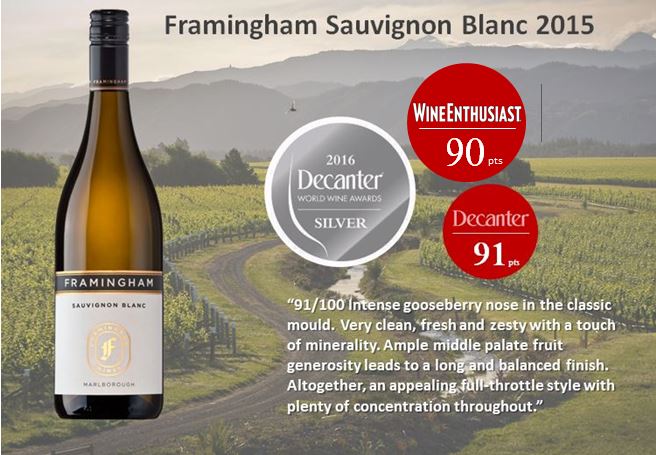 Wine Enthusiast gives Framingham Sauvignon Blanc 90 points
This rating of the 2015 vintage is a great complement to the recent Decanter review, which included a 91-point rating and silver medal award. If you're in or near NY this weekend, come taste this excellent wine at the New York Wine & Food festival!
The review will appear in Wine Enthusiast's online database in December, and will possibly appear in Wine Enthusiast's Best of Year issue.
Framingham's Sauvignon Blanc (100%) is a classic Marlborough style with a signature dry, mineral finish. The wine has become famous worldwide for its expression of place, and for the intensity of flavors resulting from the combination of young riverbed soils and cool climate.
Framingham utilizes small batch winemaking for depth in flavor and texture. While around 93% of the Sauvignon Blanc 2015 blend was fermented in stainless steel tanks at cool temperatures, the remaining 7% were barrel fermented at warmer temperatures to enhance texture.
Marlborough's Wairau Valley, at the top of New Zealand's South Island, is one of the world's premier cool climate viticultural regions, whose range of soil profiles, from stones to clay, and different mesoclimates and vineyard practices, provide complexity in the finished wine.
For more detail, download the tech sheet.