For more than 100 years, this landmark winery in Barrancas, in the Maipu district of the province of Mendoza, has been producing exceptional wines. Created by the visionary Don Sami Flichman in 1910, the estate was bought by Sogrape in 1998 who made tremendous investments to show their commitment of quality and integrity wines.
The original Flichman Winery was preserved, restored & expanded. The most high-tech winemaking equipment now sits on the hundred year old property. Finca Flichman's grapes are grown over 950 hectares, predominantly with noble varieties, including: Cabernet Sauvignon, Syrah (some of the oldest in the country), Malbec, Merlot and Chardonnay. The vineyards are located in two regions of Mendonza: Barrancas, 700 meters above sea level and center of Town Tupuganto which rises 1,100 meters above sea level.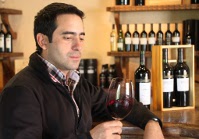 German Berra
Chief Winemaker at Finca Flichman, is an Agronomist Engineer and Oenologist graduated from Universidad Nacional de Cuyo, Mendoza, Argentina. His broad experience includes fifteen harvests in the U.S.A., France and Argentina.
Being a child, his first steps in viticulture were at his family's vineyards, helping his father. German's grandfather, an Italian immigrant, had planted those vineyards in early 1900.
He has attended specialized Viticulture and Oenology courses and seminars at Montpellier Université, France, and at Davis University, California, U.S.A. He has got a Master degree in Viticulture and Oenology for Universidad Nacional de Cuyo and L'Ecole de Montpellier.
German has been Winemaker at Finca Flichman since 2007. He had previously worked for Grupo Peñaflor and for Kendall Jackson Winery, Monterrey, California.
His passion for wine has led him to be a professor of Viticulture at Universidad Maza, one of the most renowned universities in Argentina, where he also coordinates the Research Group on Sustainable Environmental Practices for wineries.
His major challenge at Finca Flichman is focused at identifying and exploring the different micro-terroirs that assure the maximum quality potential in wines.
PRODUCTS