Herdade do Peso Parcelas

An almost opaque ruby color, this wine reveals notes of blueberries and violets, and hints of menthol. On the palate, it is lively and extremely rich with firm tannins and an excellent attack. Robust and very persistent.

50% Petit Verdot, 50% Alicante Bouschet

The grapes used for this wine were produced in P.21 of Alicante B. and P.101 of P.Verdot. These proved themselves to be the best plots and each demanded different types of attention during the vegetative cycle, in order to obtain grapes of the highest quality. After destemming, grapes were manually sorted and then proceeded to soft crushing. The fermentation took place in cone-shaped tanks at 28ºC after a 3-day maceration period of 10ºC.

This wine pairs wonderfully with well-seasoned meat dishes, game and intense cheeses.

The grapes used for the 2019 vintage were produced in P.21 of Alicante Bouschet and P.101 of Petit Verdot. By given individualized attention to each of these plots according to their vegetative needs, we obtained grapes of outstanding quality.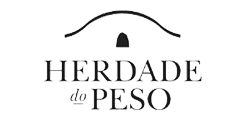 Herdade do Peso Products